Copley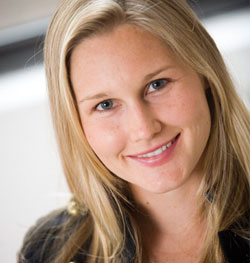 I was born into the decade of shoulder pads, leg warmers, and Miami Vice – on an island off the coast of Florida, not far from Miami, coincidentally. As a member of Generation Y, I was endowed with an innate understanding of technology and a need for instant gratification. Driven by these qualities, I embarked on a journey with Truth In Aging in the summer of 2008 to help develop a website where the truth is a mouse click away and answers to all things beauty abound.
Attempting to avoid an early diagnosis of skin cancer, I abandoned the beaches for an education up North: first Georgetown University, where I received my degree in English, then New York University for a Master's in Digital Publishing. In between, I hopped around the city from Polo Ralph Lauren's Advertising division, to a publishing start-up on Wall Street, to the inimitable Truth In Aging.
My most recent move has taken me to Philadelphia – for a change of pace, and for love. When I'm not at my job managing the website for a research organization, I am going on double dinner dates, planning my wedding, traveling every chance I get, and playing with my mischievous puppy. And, of course, testing products and reporting back to the team at TIA.