AQ Lash- reviewed and recommended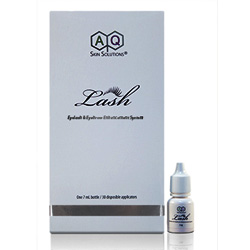 I may have inadvertently inspired the launch of
AQ Lash
, the new eyelash growth product from AQ Skin Solutions. I had been using the
AQ Eye Serum
($99
in the shop
) and had been impressed by its eyelid-lifting abilities when one day I thought my eyelashes were looking a little longer and/or thicker. I dismissed the thought, until a couple of other people commented on my longer, thicker lashes. AQ's Eye Serum was making my lashes grow. I posted a comment on this very welcome side effect and the company promptly launched AQ Lash and sent me a sample to test.
AQ Lash
($135
in the shop
) works, as I'd hoped, even better than the Eye Serum at growing my lashes (I gave up using the Eye Serum during my month-long test period to be sure). AQ Lash harnesses the company's signature growth factors (rather than a prostaglandin – an eyelash growth ingredient that has controversial side effects) used in the face and eye serums with some modifications.
In particular, the face serum includes a TGF-Beta GF that actually inhibits hair growth. This same GF that inhibits hair growth has been removed from AQ Lash, allowing the eyelashes to grow. And if anyone wants the lowdown on growth factors, there's more information in
this post
and for a quick reprise know that the original  human fibroblast cell came from donated tissue, and is then genetically modified replicated in a lab.
When I first opened the AQ Lash packaging, the first surprise was it contained not a mascara-like applicator, but a small squeezable bottle and a pack of disposable foam-tipped wands. On thinking about it, this made sense because repetitive brushing and dipping can compromise the solution with microbes. This would be a result that could be mitigated against by adding in a lot of harsh chemical preservatives that I wouldn't want near my eyes. AQ's approach means that the preservative used is
Japanese honeysuckle
. Also, the angle of the foam tips proved to be comfortable and very efficient at applying just the right amount of product along the base of my upper and lower lashes.
AQ says that there is enough solution in the bottle for 30 applications. However, I got more out of it and estimate I have at least another 15 to 20 days' worth, despite using it fairly generously. Now, it is worth saying that at 30 applications, this need not be a once-a-month buy at $135. After using it daily and seeing good results (stronger, darker, longer lashes), I am able to reduce to a maintenance regimen of three times a week.
Although AQ says the product can also be used for eyebrows, it didn't do much for mine, despite the inclusion of biotinoyl tripeptide-1 (which you will also find in
Chella's Brow Ful-fillment
) and I have gone back to
Brow Vitality Complex
. Nonetheless, for lashes AQ is a winner.
Ingredients:
Human Fibroblast Conditioned Media, Water (Aqua), Glycerin, Panthenol, Biotinoyl Tripeptide-1, Lonicera Caprifolium (Honeysuckle) Flower Extract, Lonicera Japonica (Honeysuckle) Flower Extract, 1,2-Hexanediol, Caprylyl Glycol