BioEffect EGF Serum- reviewed and rejected...for now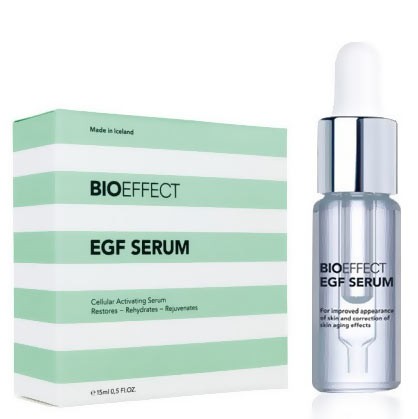 I have been a believer in the potential of epidermal growth factors long before they became the anti-aging ingredient of the moment. Years ago, after performing my due diligence on Skinmedica's TNS Recovery Complex, I incorporated the serum into my p.m. 
skincare regimen
 and can happily say that I'm thrilled that I used the trailblazing potion early on. Since then, I have experimented with other stem cell serums, derived from both human and plant, both single and complex combinations. Not all serums have delivered on their promises but generally the results have been positive more often than not.
I had used 
BioEffect's EFG Serum
 ($110 
in the shop
) for just over a month, applying it to the fine lines around my eye area. I was excited to test the product based on 
Marta's results
 and the fact that two of the scientists for BioEffect had won a Nobel Prize (thanks for doing the research
Jeanne
). Moreover, I have tried both human- and plant-based stem celled serums, notably 
Lather's Swiss Apple Wrinkle Remedy
 ($62 
in the shop
), which uses apple stem cells, but I was intrigued to test a stem cell derived from barley. A barley from Iceland, nonetheless – I love Iceland!
BioEffect didn't quite live up to the hype for me. Oil is not included in the formulation but you could have fooled me. I found the serum to be fairly greasy and heavy, which is odd considering I was applying it around my eyes, where skin has a tendency to become dry as there are few sebaceous glands.  I would imagine this serum would be nice in the winter when my skin gets dry patches but even then, it might be too heavy if not applied sparingly. While the serum is dispensed with a dropper, it's still easy to overdo it and there were times the serum dripped down my face and I hastily wiped off the excess for fear of a potential breakout (based on a
Junko's experience
).
Despite the simplicity of the formulation (there are only nine ingredients), there is certainly a lot of product in the tiny vial and this serum will easily last me many months, considering I am only applying it around my eye area. After using BioEffect for just over a month I stopped using it as I wasn't seeing the results I'd expected. I have considered that perhaps BioEffect may require two to three months for me to see visible results; a timeline I can't commit to at present. However, perhaps when New York City is next within the cold grips of winter, I may just pick up my vial of BioEffect again.
Ingredients:
Glycerine, Aqua, Calcium Chloride, Sodium Hyalunorate, Tromethamine, Hordeum Vulgare Seed Extract, Alcohol (Ethanol) (less than 0.9%), Sodium Chloride, EGF (Transgenic Barley sh-Oligopeptide-1)