Cures by Avance Age Defyer Eye- reader reviewed and recommended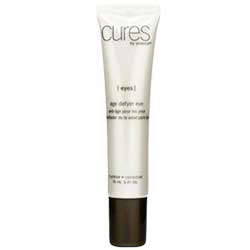 Reviewed by Pat
I was given the opportunity to test and review
Cures by Avance Age Defyer Eye cream
. The company's website claims that it is for help with deep lines, loss of elasticity, and under-eye bags. It "promotes collagen production around the sensitive eye area; leaves eye area softer, smoother, and less lined; and helps erase the signs of aging, wrinkles, and dark circles." The website also states that "Cures represents a collection of skincare and body care products that are curative and corrective. Our goal is to focus on skin conditions and not on skin types. Cures has created services and treatments that treat the root cause of the condition, offering long-term results."
This sounded great! I am in my late 50s, suffering from crepey skin above and below my eyes, droopy lids, but no bags or dark circles. I am a huge fan of
YBF Correct
($150
in the TIA shop
), which has made a huge difference in the texture of my skin in the past year. But I am an educator, and my income has been affected by my school district's budget cuts. Cures Age Defyer Eye cream costs $50 for 15 ml or 0.5 oz, which is one-third of the price of YBF Correct, so I was very interested in trying it.
I decided to use Cures on my right eye and keep my routine of alternating YBF Correct and
ReLuma Eye Cream
($90
in the TIA shop
) on my left eye. After cleansing, morning and night, I applied the Cures eye treatment around the orbital area of my eyes. The texture of the eye cream is creamy, but not greasy. It absorbs well, it is hydrating, and my eye makeup applies over it effortlessly. After a month, I could not see a difference between my left and right eyes, so I decided to use Cures on both eyes. For the next month, I applied it morning and night after cleansing. I am really happy with the results! It has kept my crepiness in check and my eye area soft and hydrated. After a month, I did notice that my left eyelid did not seem as "lifted," so I've gone back to using YBF Correct on my eyelid every few days.
Will I purchase Cures Age Defyer Eye cream when I run out? I would say, "Yes!" I think it is great alternative for me. It will be interesting to see if it is indeed curative and corrective over time. If YBF Correct and Cures Age Defyer Eye were the same price point, I would have to say that I would purchase YBF Correct, but in my situation, Cures Age Defyer Eye is a great choice!
Ingredients:
Aqua, Caprylic/Capric Triglyceride, Glyceryl Stearate, Butyrospermum Parkii (Shea Butter), Glycerin, Squalene, Carthamus Tinctorius (Safflower) Seed Oil, Sorbitol, Palmitoyl Oligopeptide, Palmitoyl Tetrapeptide-7, Hydrolyzed Hibiscus Esculentus Extract, Lecithin, Hesperidin Methyl Chalcone, Steareth-20, Dipeptide-2, N-Hydroxysuccinimide, Chrysin, Cera Alba, Cetyl Alcohol, Propylene Glycol Stearate, Dimethicone, Steapyruim Chloride, Tocopherol Acetate, Allantoin, Panthenol, Sodium Hyaluronate, Sodium PCA, Chamomilla Recitota Matricaria Flower (Chamomille) Extract, Achillea Milefolium (Yarrow) Extract, Orbignya Oleifera Seed Oil, Borago Officinalis Seed Oil, Disodium EDTA, DMDM Hydantoin, Iodopropynyl Butylcarbamate, Butylene Glycol, Polysorbate 20, Carbomer