Five Best over the counter anti-wrinkle retinol creams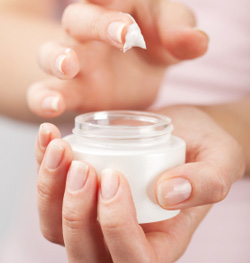 This post has been updated. See Five Best with retinol 2013.
Retinol, it must be said, is very good at reducing fine lines and giving the complexion a boost. So good, in fact, that it is easy to get addicted. Beware, retinol is a heavy-duty exfoliator and overuse may irritate the skin and even thin it.
What Is Retinol? Why Do Anti-Wrinkle Retinol Creams Work?
Retinoids are highly active and produce relatively quick skin changes but the speed and intensity of the changes is dependent on the form and dose, as well as an individual's tolerance. Our Five Best over the counter retinol buys have been tested by me and members of the Truth In Aging community and have been selected because, along with retinol, they are packed with other great anti-aging ingredients.
Five Best Anti-Wrinkle Retinol Creams

Omosis Correct ($44 in the TIA shop). An excellent and effective product that fades wrinkles and smooths the skin whilst being relatively gentle. The secret is that niacinamide backs up the action of trans retinal. Plus there are anti-aging heavy hitters such as copper peptides and epidermal growth factor that repair wrinkles, as well as R-Lipoic acid. A great anti-wrinkle retinol product at any price and very good value at less than 50 bucks. Read the full review.

PSF Retinol Nite Repair ($48). A good product at a good price. It packs its punch with a 1% concentration of pharmaceutical grade retinol. Alpha lipoic acid is an interesting additional ingredient that is supposed to prevent vitamin C and E deficiency. Counteracting the irritant effects of retinol are aloe, neem oil and willow bark, which has salicin (similar to aspirin) in it. Unfortunately, I am less keen on the butylated hydroxytoluene (BHT), a preservative that has been banned as a food additive in Japan and Europe. Read more on this product.
See more articles like this when you sign up for our newsletter
Skinfinite Platinum PM Cream 1% Retinol ($79 in the TIA shop). Truth In Aging reviewer, Mark, said: I didn't experience any redness, irritation or flaking (as I did initially with retin-A, even with cautious use) and I do attribute that to gradual use, and most likely the improvement in the delivery system of the product. It left my skin smooth and even toned. Interestingly, instead of drying my skin out, it actually hydrated it thanks to several moisturizing ingredients such as shea butter, almond oil, beta-glucan(D), and ceramide-2". Skinfinite says its retinol is entrapped in molecular microsponges that enhances skin penetration in a time-release delivery system. Another reviewer, found this anti-wrinkle retinol cream too strong to use more than once a week. Read Mark's review in full.

Arcona Vitamin A Complex Repair. Arcona put two retinoids in their Complex Repair (PM). Retinol, the alcohol form of vitamin A, is the third ingredient, and retinyl palmitate is further down at 10th position. For anyone who likes retinoids, this is a great one to try because the overall formulation is so clean, lightweight and you won't have to wait too long to see some changes. Truth In Aging reviewer, Jaysie, said she "was quickly aware of a tightening effect, but also a smoothing effect. For anyone who likes retinoids, this is a great one to try because the overall formulation is so clean, lightweight and you won't have to wait too long to see some changes." Read the full review

Prana Reverse A ($48 in the TIA shop). An excellent retinol that does a great job of bringing down sun damaged skin. If you have stubborn areas of aging skin or hyperpigmentation and want a relatively effective over the counter anti-wrinkle retinol cream, then Prana Reverse A is worth trying out. Reverse A gets my vote for its natural ingredients and slew of anti-agers. Alpha lipoic acid is an antioxidant and produces energy in cells and I especially like l-Carnosine, which flushes toxins from the body and may extend the Hayflick Limit (the number of times cells reproduce themselves). NaPCA crops up in a few of Prana's products and sounds a little like hyaluronic acid (which is also here) in that it Na-PCA it pulls water out of the air to moisturize the skin. With botanical sage, horsetail and chamomile, Reverse A also has calming effects and may help with broken capillaries. The vitamin A is rounded out with Vitamin B5, E and C. Read the full review.

Related Articles:

Products that contain matrixyl and retinol

Over the counter retinol creams

Retinyl palmitate (not to be confused with retinol)

Tretinoin and retinoids - toxicity and safety

Exfoliation 101: from brushing to retinol

Ingredients in Our Five Best Anti-Wrinkle Retinol Creams
Ingredients in Osmosis: Harmonized water, ceteareth olivate (from olive oil), organic almond oil, phosphatidylcholine, niacinamide, yellow corn alcohol, caprooyl tetrapeptide-3, glycerin, L-lactic acid, L-hydroxyproline, butylactyl cetearate (vegetable source), 1,3 beta glucan, cetyl palmitate (from olive oil), trans retinal (0.5%), R-lipoic acid, chlorella, epidermal growth factor, GHK copper peptide, dextran, lecithin, tocopheryl acetate, potassium sorbate, xanthan, essential oil blend.

Ingredients in Prana: Purified Oxygenated Water, Aloe Vera Gel, Glycerin, DMAE, Alpha Lipoic Acid, Vitamin B5, I-Carnosine, Vitamin E, Lecithin, Retinyl Palmitate (Vitamin A), Hyaluronic Acid, NaPCA, Chamomile Extract, Sage Extract, Horsetail Extract, Centella Asiatica Extract, Eyebright, Magnesium Ascorbyl Phosphate and Grape Seed Extract

Ingredients in PSF Retinol Nite Repair: Retinol 1%, Rosa damascena (Rose) Distillate, Simmondsia chinensis (Organic Jojoba), Cocos nucifera (Organic Coconut), Vegetable Glycerin, Alpha lipoic acid (ALA), Emulsifying Wax NF, Palm Stearic Acid, Citric Acid, Aloe barbadensis (Organic Aloe) Leaf Juice, Hamamelis virginiana (Witch Hazel), Tocopherol (Vitamin E), Rosmarinus officinalis (Rosemary), Oleoresin, Ascorbic acid (Vitamin C), Azadirachta indica (Organic Neem), Salix nigra (Organic Black Willow Bark) Extract, Butylated hydroxytoluene (BHT), Methylpropylparaben.

Ingredients in Skinfinite: aqua (water), caprylic/capric triglyceride, cyclopentasiloxane, glycerin, allyl methacrylate crosspolymer, glyceryl stearate, stearic acid, carthamus tinctorius (safflower) seed oil, butyrospermum parkii (shea butter), polysorbate 60, stearyl alcohol, cyclohexasiloxane, retinol, sodium hyaluronate, dimethicone, chamomilla recutita (matricaria) flower extract, cordyceps sinensis extract, glycyrrhiza glabra (licorice) root extract, trametes (coriolus) versicolor (mushroom) extract, dimethicone/vinyl dimethicone crosspolymer, beta glucan, ceramide 2, polysorbate 20, peg-40 hydrogenated castor oil, butylenes glycol, peg-60 almond glycerides, nordihydroguaiaretic acid, oleanolic acid, glyceryl acrylate/acrylic acid copolymer, carbomer, triethanolamine, bht, phenoxyethanol, caprylyl glycol, ethylhexylglycerin, hexylene glycol.

Ingredients in Arcona: Agua (Distilled Water), Hamamelis Virginiana Extract (Witch Hazel), Retinol, Glycolic Acid, Arbutin, Quercetin Flavonoid, Beta Glucosamine, Resveratrol, Sodium Hyaluronate, Vitamin A (Retinol Palmitate), Vitamin E (Tocotrientols), Super Oxide Dismutase, Aminoguanidine HCI, Spin Trap (Phenyl Butyl Nitrone), Grapefruit Seed Extract (Citrus Grandis).