Five Best Products with Copper Peptides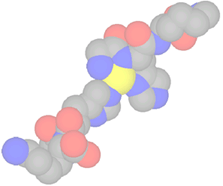 This post has been updated - see our 2013 Five Best with Copper Peptides
For existing lines or scars, copper peptides are a wrinkle warrior's heavy artillery. One of the main roles of copper is anti-inflammatory – it works by suppressing inflammatory cytokines – and there is a growing school of thought that increased inflammation brings about aging. However it should be noted that, as I understand it, copper has to have something to repair (for preventative skincare, it is better to look for collagen boosting peptides like Matrixyl and antioxidants). Copper's powers also extend to hair growth. It seems to work on the follicle in two ways: increasing follicle cell proliferation yielding increased follicle size; and also decreasing programmed follicle cell death, which results in smaller follicles.
When I posted a week ago on how copper peptides work, I promised a roundup of the best performing products with copper peptides. Here it is.
Five Best Products with Copper Peptides

Skin Nutrition Cell CPR ($170 in the TIA shop). Skin Nutrition's philosophy is that skin cells are complex things made up of phospholipids, proteins (enzymes, oligopeptides, amino acids), oligosaccharides, oxygen, vitamins and minerals. And so, therefore, is Cell CPR with a whopping 70 or so ingredients. You'll find some new peptides, including hexanoyl dipeptide-3 (which is lecithin and norleucine Acetate) activates skin cell regeneration by stimulating the natural desquamation process of the skin, leading to a gentle peeling. Rh-oligopeptide-1 (Egf) is a recombitant human epidermal growth factor. Here, of course, is copper tripeptide (also known as copper GHK). Even more cutting edge is adenosine triphosphate (ATP), an ingredient that is also in DermaSilk. It is the main energy source for the majority of cellular – and muscular – functions. This includes the synthesis of DNA. It's expensive, but I get compliments when I use it.

Hair Vitality Complex ($49 in the TIA shop). This is Truth In Aging's first branded product. Copper peptides help a great deal for hair growth and reduced shedding. The problem was that most copper peptide products were unpleasant to use and also contained other ingredients that I didn't like. And so I worked with Your Best Face to make a product that would work, be pleasant to use (no bad smells) and not scary for those of us with blonde hair and expensive salon color jobs. There are amino acids creating a copper peptide and vitamin B and that's about it. I tested this on 125 members of the TIA community and 70% said it would work and they would buy it. Well here it is.

GloTherapeutics Glopeptide+Defense ($130). This potion has three of our five best anti-aging ingredients, L-carnosine for extending the hayflick limit, spin trap (a busy molecule that is a brilliant radical scavenger) and collagen boosting Matrixyl 3000. Copper peptides do not appear high on the list of ingredients, but Glopeptide has to get a mention for the host of great ingredients that pack an awful lot of antioxidant punch. When I used this cream for a few weeks, I was told that I looked as if I'd had Botox.

Hair Signals ($27 in the TIA shop) Both are made by Skin Biology and use the same copper peptide formula. Hair Signals is easier to use as it isn't the same alarming turquoise as Folligen. There's also saw palmetto and green tea. Although at first glance, Hair Signals seems to have eshewed parabens, there are actually two in the ingredient that goes by the name of germaben 11-E.
Also, see our Five Best with copper peptides of 2013 as well as all our Five Best recommendations, including Five Best for sagging skin, Five Best with vitamin C and Five Best eye creams.
Ingredients in Our Five Best with Copper Peptides
Ingredients in Glo Therapeutics: Aqua (Water), Helianthus Annuus (Sunflower) Seed Oil, Caprylic/Capric Triglyceride, Squalane, Rhodiola Rosea Root Extract, Glucose, Chondrus Crispus (Carrageenan), Polawax, Sodium PCA, Cetearyl Olivate, Sorbitan Olivate, Ribes Nigrum (Black Currant) Seed Oil, L-sodium Hyaluronate, Thermus Thermophilus Ferment, Butylene Glycol, Carbomer, Polysorbate 20, Palmitoyl Oligopeptide, Palmitoyl Tetrapeptide-7, Algae Extract, Palmitoyl Tripeptide-3, Rosa Rubiginosa Seed Oil, Laureth-3, Hydroethylcellulouse, Acetyl Dipeptide-1 Cetyl Ester, Alcohol Denat., Cassia Alata Leaf Extract, Rooibos (Aspalathus Lineasris) Extract, White Peony Extract, Simmondsia Chinensis (Jojoba) Seed Oil, Glycerin, Cocos Nucifera (Coconut) Fruit Juice, Epigallocatechin Gallate, Phyllantus Emblica (Amla) Fruit Extract, L-carnosine, Niacinamide, Spin Trap (Phenyl Butyl Nitrone), Acetyl L-carnitine, Ubiquinone, R-lipoic Acid, Crataegus Monogyna Leaf Extract, Phytic Acid, Adenine, Vitamin B Complex, L-glutathione, Cysteine, Tocotrienols, Copper Peptide, Selenium, Manganese, Superoxide Dismutase, Trehalose, D-ribose, C 18-36 Acid Triglyceride, Xanthan Gum, Citrus Aurantifolia (Lime) Oil, Citrus Paradisi (Grapefruit) Peel Oil, Citrus Nobilis (Mandarin Orange) Peel Oil, D-alpha-tocopherol, Gluconolactone, Sodium Benzoate

Ingredients in Hair Signals Cream: Water, aloe vera gel, copper peptides (soy protein peptides and cupric chloride), octyl palmitate, squalane, crodamol PMP, stearic acid, PEG 100 strearate, glycerol monostearate cetyl alcohol, extra virgin olive oil, germaben II-E, tea extract, beta-sitosterol, saw palmetto oil, lavender oil, pygeum africanum, leucine, polysorbate 80, allantoin, vitamin E TPGS, retinyl palmitate, vitamin E isomers, tocotrienol isomers, coenzyme Q10, leutin, lycopene.