Taun Facial Repair Formula- reader reviewed and recommended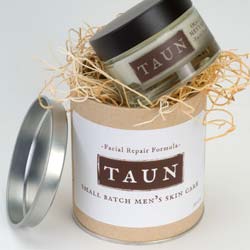 Reviewed by Dennis
Last month I was fortunate to receive a full-size jar of
Taun Facial Repair Formula
(thank you very much, TIA). The jar comes in a nifty tin, which I thought was very masculine. However, the jar itself is a bit of an issue: Though I am sure the
phenoxyethanol
and
ethylhexylglycerin
do a competent job of preventing contamination, I am a bit of a snob for airless pumps. I also store the jar in the tin all the time because the jar also allows light in. Beyond those nitpicks, I am pleased with the Taun moisturizer! The consistency of the cream itself is just right. It has a pleasant non-odor and absorbs nicely. The proof however is in the pudding, and this one has ingredients to whet the appetite! I have actually been searching for a good face cream with
niacinamide
as the key ingredient for some time now. This product seems to be just that. Niacinamide's benefits have always intrigued me and appear to provide broad improvements in skin health from pigmentation to skin sallowness to elasticity (
source
).
Nisha recently did a lovely job lauding the benefits of niacinamide in her
CeraVe post
.
The Facial Repair Formula ($79
in the shop
) is also formulated with squalane, hyaluronic acid, vitamin c in the forms of sodium ascorbyl phosphate, magnesium ascorbyl phosphate, and ascorbyl glucoside, the latter of which I had never heard of. Research was limited and confusing to me, but seems positive:
"Ascorbyl glucoside has a structure in which the C2-hydroxyl group of L-ascorbic acid is masked with glucose. Once selectively permeated through the skin, ascorbyl glucoside is broken down into L-ascorbic acid and glucose by the enzyme alpha-glucosidase. Because ascorbyl glucoside is broken down into L-ascorbic acid, it has the same functions as L-ascorbic acid: exhibiting high antioxidant activity, acting as a coenzyme for enzymes involved in collagen synthesis (namely prolyl and lysyl hydroxylase), and inhibiting the synthesis of melanin" (
source
).
It is also theorized that ascorbyl glucoside seems to work better when formulated with niaciniamide (
source
).
Taun Facial Repair rounds out with a solid bundle of peptides, which are probably familiar to TIA fans: Acetyl Tetrapeptide-2, Acetyl Hexapeptide-8 (Argireline), and Palmitoyl Oligopeptide + Palmitoyl Tetrapeptide-7 (Matrixyl 3000).
I have certainly been aware of Argireline and Matrixyl for years, but
Acetyl Tetrapeptide-2
is relatively new to me. Marta talked briefly on it while reviewing 37 Extreme Actives. It seems more research is needed.
Since beginning use of the Taun product, I have foregone all of my other nightly creams and serums in favor of giving it a solid month's try. I have to say: I don't miss those other products at all! I am really liking the way my skin looks lately. I love the feeling of the formula on my skin, and it never makes me oily. I am not sure that the product is reversing anything, but I am certain it is protecting, treating, and enhancing. I am of the belief that a product needs at least six months before true results are shown. I am definitely considering purchasing this product, despite what I perceive to be a bit of a high price tag ($79 - I'm cheap), and the controversial preservatives. I would also not hesitate to recommend this to any male friend looking for a solid moisturizer. I think Taun's Facial Repair Formula is a positive step forward in the otherwise uninspired market of men's skincare. Possibly right up there with
Jack Black's Protein Booster Skin Serum
.
Ingredients:
Purified Water (Aqua), Simmondsia Chinensis (Jojoba) Seed Oil, Prunus Armeniaca (Apricot) Kernel Oil, Niacinamide, Laureth-7, C13-14 Isoparaffin, Squalane, Hyaluronic Acid, Sodium Ascorbyl Phosphate, Magnesium Ascorbyl Phosphate, Ascorbyl Glucoside, Acetyl Tetrapeptide-2, Acetyl Hexapeptide-8, Palmitoyl Oligopeptide, Palmitoyl Tetrapeptide-7, Retinol, Polyacrylamide, Phenoxyethanol, Ethylhexylglycerin