Amala Blue Lotus Purifying Clay Mask – reviewed and recommended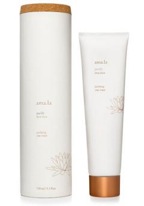 When I first began researching the botanical Blue lotus (Nmyphaea caerulea), the key ingredient in Amala's Purify collection, I discovered that it contained antioxidant properties thanks to bioflavenoids quercetin and rutin. Most often, it's hard to gauge what will actually irritate my sensitive acnegenic skin (such as another blue product,  Kiehl's rather harsh blue astringent lotion) as opposed to calming, healing and purifying like it intends.
But, with the Amala Blue Lotus Purifying Clay Mask's ($58) mission to restore balance, clarity and radiance to acne-prone skin by infusing it with the vitamins, minerals and amino acids found in blue lotus – combined with the fact that a clay mask shouldn't over-dry or over-exfoliate my skin – I figured it was worth a shot.
It was easy to spread a thin brown layer of the mask evenly over my face. Unlike other masks that tend to tingle a tad too much, this mask felt like it was doing it's job rather than eating a layer of my skin off.  After washing my face with warm water and patting my face dry,  I  was instantly surprised at how smooth my skin felt. This is probably due to the wide variety of moisturizing ingredients also incorporated into the mask, from avocado oil to shea butter and jojoba.
The next day is usually D-day for me, 24 hours can make my face go from okay to very much not okay if it doesn't like what happened to cohabitat with it the night before. But, having had the opportunity to show it's true colors, I was pleasantly surprised. My skin was still soft, several lesions of acne that had been waiting to erupt seemed as if they had been held at bay, and my skin looked brighter than before – most probably a result of skin brightening agents like almond oil at work.
Concerned that it may just have been a fluke – even I have decent skin days – I decided to wait until the following Sunday and repeat the process again. Second try, 24 hours later (approximately the time of writing this) and I can still say, my skin is saying yay as opposed to nay.
Ingredients
Water (Aqua), Alcohol*, Simmondsia Chinensis (Jojoba) Seed Oil*,  Prunus Amygdalus Dulcis (Sweet Almond) Oil*, Bentonite, Glycerin, Polyglyceryl-3 Stearate, Persea Gratissima (Avocado) Oil*, Sodium Stearoyl Lactylate, Kaolin, Plantago Lanceolata Leaf Extract*, Salix Alba (Willow) Bark Extract*, Butyrospermum Parkii (Shea Butter)*, Stearic Acid, Nymphea Coerulea Flower Water, Nymphea Coerulea Flower Extract, Fragrance (Parfum), Citrus Medica Limonum (Lemon) Peel Oil*, Citrus Aurantium Dulcis (Orange) Peel Oil*, Lavandula Angustifolia (Lavender) Oil, Algae Extract, Canola Oil*, Aloe Barbadensis Leaf Extract*, Rosa Moschata Seed Oil*, Centella Asiatica Extract, Oryza Sativa (Rice) Germ Oil*, Camellia Sinensis Leaf Extract*, Camellia Sinensis Leaf Extract, Alcohol, Zingiber Officinale (Ginger) Extract*, Oryza Sativa (Rice) Germ Extract*, Cetraria Islandica Extract*, Xanthan Gum, Tocopherol, Lactic Acid
*Ingredient produced by organic farming
is a Solution for:
Rosacea, Dull Skin, Oily Skin