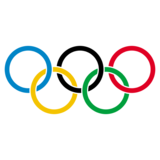 Truth In Aging
Anti-Aging Olympics nomination: Sun Bunny Salvation
At last, a moisturizer specially formulated for oily skin:
Astara Blue Flame Oil-Free Moisturizer
. In hot weather, just about everyone experiences excessive shine on their dime and the last thing we want is to exacerbate the problem with a rich, creamy formula that is going to sit on the skin, block a few pores and then melt away.
Astara Blue Flame Oil-Free Moisturizer ($42 for 2.5 oz) is a simple, but extremely well-thought through formula. The best thing about it is that it contains spin trap. This is a clever molecule whose scientific name is phenyl n-tert-butylnitrone (PNB). It actually seeks out electrons, or free radicals, that are spinning out of control and rectifies them before they can do any damage.
D-cholic acid dries sebum and controls oil production. Meanwhile, the skin retains moisture with the help of sodium hyaluronate. Ylang ylang extract strengthens the skin.
Even the preservative deserves a short victory lap. It is totarol, which comes from a massive tree in New Zealand called totara. It is completely natural, won't irritate and is an effective antibacterial.