Beach Organics SPF 30 All Natural Sunscreen Review
Pros
Is free from any troubling ingredients
Cons
Is difficult to apply in the right amount
Our Take
An effective, natural choice of sun protection with some drawbacks in its ability to blend into the skin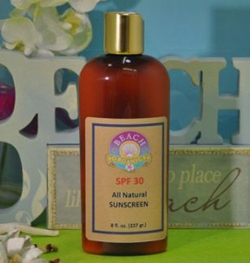 by Angela
I'm in my early 60s and have been using the Beach Organics SPF 30 All Natural Sunscreen ($15.99), and I have to say, it does exactly what it claims to do. On the positive side, it has no scent, no chemicals, no parabens and no worrisome ingredients of any kind. You will never get so much as a strap mark when using this product. I have worn it for 18 holes of golf on a hot and humid day, and it doesn't sweat off or make me perspire the way some more occlusive sunscreens do. (Ever notice that? Some products make my skin feel suffocated!)
However, I find this sunscreen has a few drawbacks. There is a definite learning curve to using it because a little goes a long way. I found it impossible to follow the "shot glass" rule, because, not only did it give my skin a ghostly pallor, it actually flaked off. The product label warns about this flaking possibility, and advises using less to remedy the problem, but I never did master the technique. When I did manage to use the correct amount, it worked beautifully, but more often than not, I used too much and flaked badly. I also found it completely incompatible with any makeup I tried to use over it. It either showed through (the aforementioned ghostly pallor) or the makeup rolled off in little balls. Not a pretty sight!
I appreciate the fact that this is a safe, natural, effective sunscreen, and if I had little children or sensitive, reactive skin, I wouldn't hesitate to use it. Since I am not in any of these circumstances I have to say that I have several, more elegant and easy to use alternatives.
Ingredients in Beach Organics SPF 30 All Natural Sunscreen
Zinc Oxide, Titanium Dioxide, Deionized Aqua (Pure Water), Helianthus Annuus (Sunflower Oil), Lecithin, Cocos Nucifera (Coconut Oil), Glycerin, Xanthan Gum, Green Tea Extract, Simmondsia Chinensis (Jojoba Oil), Tocopherol (Vitamin E), Shea Butter, Eucalyptus Oil
Is Beach Organics SPF 30 All Natural Sunscreen Right for Me?
Contains no parabens or any other questionable ingredients
Provides excellent protection from the sun
Difficult to apply and blend
Does not work well under makeup
Beach Organics SPF 30 All Natural Sunscreen is a Solution for:
Sun Protection for Body, Sun Protection for Face