Over the counter retinol products are mostly a sorry bunch. Many have barely enough retin-A for it to qualify as the active ingredient and one of the strongest on the market, Skinceuticals Retin 1.0, has at least three other ingredients they may be toxins or irritants. I have just come across three OTC products that have such a potent shot of retinol that they leave Skinceuticals standing.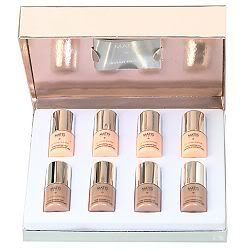 Matis Caviar Retinol has a whopping 10% concentration of retinol. For some of us more sensitive souls, that may be too strong. I find the morning and night routine a bit fussy and probably unnecessary: the only obvious difference between the two is that the night cream has tamarind. And what is the point of caviar, other than to ensure Matis Caviar Retinol has a luxury price tag? Apparently Angelina Jolie is a fan (of caviar body wraps) so may be there is something to it. There is a lot of B12 in caviar and omega 3 fatty acids, but it is difficult to imagine how the nutrients in something so perishable (there is a good reason for serving caviar on ice) will thrive in face cream.

Unfortunately, Matis Caviar Retinol contains polyacylamide (as does Skinceuticals), a neurotoxin that may also be carcinogenic and can be absorbed through broken skin. It also contains an anti-bacterial called triclosan that is associated with allergic reactions (a Girl Scout troop in Minnesota has taken up the cause against triclosin in household products).




Emergin C Multivitamin Retinol Serum has a 4% concentration of retinol and a 5% concentration of vitamin C. The multivitamin component is made of B complex, E, F, H and K. Emergin only lists its active ingredients, enough to make me suspicious. Having said that, it looks worth trying to find a bottle and checking out the small print. See our reader's review.




MD Formulations VitaPlus Clearing Masque is the weakest of the bunch with a 2% concentration of retinol. That's still double Skinceuticals. It has retinol and retinyl palmitate. The base ingredient is montmorillonite clay from France. Apart from a couple of paraben preservatives, there isn't anything to dislike.

Environ products are made in South Africa and have a higher dose of retin-A than can usually be found in non-prescription creams. It is usually combined with vitamin C. The Environ range has products with different strengths of retinol depending on what you are trying to achieve, sensitivity, or if you want to build up gradually to a higher strength.
Related Articles:

What is it: Retinol

Retinyl palmitate (not to be confused with retinol)

Tretinoin and retinoids - toxicity and safety