I think that Tracie Martyn's
Amla cleanser
is one of the best products around. I like her firming serum too.  So I rushed to buy her latest product, Shakti Resculpting Body Lotion. As always, Tracie Martyn scrupulously avoids nasty things like silicones and parabens and the ingredients she does use are organic. My first response was disappointment; I rubbed some on my hands and after a few moments experienced an unpleasant tingling sensation that lasted for about 15 minutes. I didn't take to the smell at all. After thinking about it really hard, I have concluded it smells rather like the rinse aid solution I put in the dishwasher. Having said that, I later tried it on my arms and legs and didn't have the tingling at all. It takes a while to get the skin to absorb it and skin feels a bit tacky for about ten minutes. Skin looks pretty good and hydrated though and so my secondary reaction to Shakti is more positive. The real purpose of this cream is to tighten and reduce cellulite (I don't have much cellulite and so can't really comment on whether it works). I shall keep using it and report back if my opinion of Shakti changes.
I started using Ischia Thermae in December and wrote about it
here
. I am still loving it. It comes with a refreshing lemon smell or fragrence-free. It isn't greasy but gives the skin a nice, healthy sheen. Actually, I'm getting a bit addicted to it.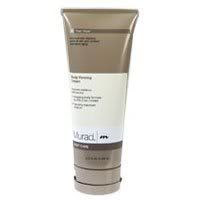 Murad Body Firming Cream is an old stand-by. It hydrates without being greasy (which is really the first job of a good body cream). It doesn't cause breakouts, in my experience. My one complaint is that it doesn't last very long; a couple of months at most, whereas the Ischia Thermae is showing every sign of last for twice as long as that.
Some people rave about Kiehl's Creme de Corp. Not me. Perhaps it works if you have ultra-dry skin. I found the gloopy consistency unpleasant to use and found that it was hard to get the skin to absorb it all. I once found a yellowish stain on the inside of my white T-shirt because the Creme de Corp was still on the surface of my skin. Frequent breakouts were the last straw.
Another good standby and it costs less than $10. Neutragena Light Sesame Body Lotion lives up to its name. It is really light. Not much use if you need a lot of hydration, but great if you don't. I use it on really hot days or when I've had a shower after doing a lot of exercise; in other words, situations in which one sweats. I remember coming back from a run to find a white secretion running down my arms that was a mixture of sunscreen, moisturizer and perspiration. Yuk.