Be the first to try out and review the latest (and possibly greatest) British invasion when in comes to skin care:
Sophyto Organics
—a product line with exceptionally high levels of organic ingredients (averaging 95%+), certified by ERP (Ecologically Responsible Production) and the Soil Associations Organic Standard.
Promotional code:
Enter "TruthinAging" for a 20% discount, it is valid now until September 30th, 2008.
Leave a comment on this post telling me about your particular skin care problems and needs (a sentence or two will do), and I'll pick a winner at random. While your at it, why don't you check out Sophyto's website where you can take their
free skin care analysis
carried out by a professional Bio Medical Esthetician. I'd really enjoy hearing about the results, as I'm sure would other readers. So, get at it!
You know the drill, if picked you owe us a review that we'll post here at Truthinaging.com.
What you'll be getting: 5 trial-sized skin essentials for cleansing, purifying, toning, &
hydrating, to include...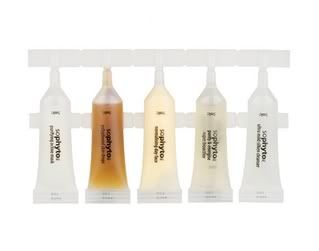 Ultra Mild Silken Cleanser
neutralizes impurities and assists with
overactive sebaceous activity without affecting skin-friendly flora.  97% certified organic ingredients and Vegan Society UK licensed.
Purify & Energise Super Bioactive
finalizes the cleansing process which pre-conditions skin to accept treatment based products. 99% certified organic ingredients and Vegan Society UK licensed.
Normalising Day Face
is a non-greasy moisturizer that instantly nourishes skin with bio-compatible, restorative protection. 90% certified organic ingredients.
Polyphenol Skin Drops
imparts remarkable antioxidant protection. 96% certified organic ingredients and Vegan Society UK licensed.
Purifying Active Mask
supports the gentle, yet effective elimination of harmful impurities from the epidermis. 94% certified organic ingredients and Vegan Society UK licensed.
My Sophyto Consultation:
Dear Claire,
Thank you for filling out our skin questionnaire. Below you will find my daily routine recommendations based upon the products Paul has recently sent you, plus some additional lifestyle suggestions based upon your skin type;.
Daily Routine (Day and Night)
- * Cleanse skin with Ultra Mild Silken Cleanser
- Dampen a cotton pad with water and rinse clean.
-  Apply Polyphenol Skin Drops (including eye area).
-  ** Finish with Mega Omegas Day Face Moisturiser (including eye area) and SPF.
** Avoid applying on impure areas. Emphasize on flaky areas.
Weekly Routine:
- **Apply Purifying Active Mask on clean skin. Leave on 10-15 mins.
- Wipe skin clean with a damp towel or a dampened cotton pad.
- Apply Polyphenol Skin Drops followed by Mega Omegas Day Face Moisturiser (as indicated on the daily routine).
** For occasional impurities, apply on the blemish and leave it overnight. Avoid squeezing/picking at the skin.
You can mix this mask with 2-3 drops of lemon or orange juice. This will help brighten your complexion.
Additional Comments:
For every cup of caffeinated beverages/glass of wine you drink, have an extra glass of water to avoid dehydration.
We are currently developing our own certified organic, non mineral SPF. In the meantime I would recommend natural/organic sunscreens as some chemicals in conventional SPFs could interact with our formulations. I suggest you sunscreen daily to protect you from artificial radiation as well. Whenever you spend time outdoors, re-apply the sunscreen every 2 hours.
In case you are interested, here I provide the links of some companies ( look for SPF 25-30, for your skin type you can use either spray, or mineral makeup):
http://www.lavera.de/sunsensitiv.html?&L=1
http://suncatnaturalmineralmakeup.com/index.html
Not all UV radiation is bad. We actually need some sunlight as a natural source of Vitamin D so that we are able to absorb calcium properly. The key is to avoid UVB radiation ( from 10 am- 4 pm). Instead, you should expose even if it is your forearm to the sun at leat 5 minutes per day before 10 am and after 4 pm (UVA radiation). You can cover your face with something which is not white (white clothes do not reflect UV radiation) while you do this.
IIt is also very important that you avoid hot showers/baths and very hot/spicy foods and beverages and staying long hours under the sun as you suffer from telangiectasias. Eating antioxidant rich foods like fruits and vegetables improve microcirculation as these nutrients help restore elasticity to capillaries walls.
Alpha and Beta hydroxy acids can alter the skin`s pH. To learn more about healthy pH and our standards, please visit the following links:
http://www.sophytoorganics.com/ph.php
http://www.sophytoorganics.com/sophyto_standards.php
It is normal to feel a tightening effect after applying Polyphenol Drops due to its high antioxidant content.
Below you will find a link a containing clinical infomation of Polyphenols:
http://www.sophytoorganics.com/downloads/polyphenol_skin_drops1.pdf
In a nutshell, Polyphenols (also known as Vitamin P) are compounds found in several foods such as grapes, apples, berries, etc. So far, they are the most antioxidant rich compounds known today. They tighten and brighten the skin, they provide a toning effect to the capillaries helping reduce their appearance, they are anti-aging too.
Our Polyphenol Drops also have the benefit (besides those mentioned above) of being pH balanced which means this formulation can also help keep bacteria at bay, smooth the skin, diminish fine lines and wrinkles, hydrate and moisten the skin,etc.
A healthy acid mantle equals a healthy skin. You can read more about healthy pH on the following link: http://www.sophytoorganics.co.uk/ph.php
All our formulations ingredients work synergistically, this is why it took 7 years to perfect our products. Every single ingredient has been studied carefully  so as to avoid interactions between them.
If you have any additional doubts/ questions do not hesitate to contact me.
Kindest Regards,
Ishtar Magally
Bio-Medical Esthetician
SOPHYTO ORGANICS