Celebrity endorsements, as George Clooney wisely remarked, can backfire on you. Dremu Oil has had such a barrage of gushing accolades from the likes of Oprah, Demi Moore, Angela Landsbury and a bunch of journalists who should know better that it is crying out for an expose. Here it is: Dremu Oil will have very little impact on wrinkles and claims that oil from emus (yes, the large flightless antipodean birds) is the ultimate anti-aging solution are entirely unsubstantiated.
Emu oil is, as it happens, a perfectly good anti-inflammatory. People who are treating acne with solutions that are hyper drying add emu oil to their routines for soothing hydration. I've had good reports from people who have used emu oil after treatments such as chemical peels. People who use it to treat wrinkles are almost inevitably disappointed.
If you need it as a skin soother, buy it from a company such as Skin Biology (makers of Super Cop 2X and other good copper peptide products) for about $30 for a 2oz bottle. If you are extremely gullible, splash out on Dremu at $125 for 1.7oz. Skin Biology's emu oil also has a couple of anti-oxidants thrown in for good measure, such as CQ10.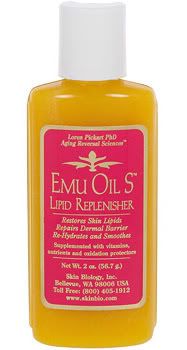 The makers of Dremu have another silly product that contains emu oil: Deception. Yes really, but I suspect that no one at Dremu HQ was stung by the irony. Deception doesn't even pretend to treat wrinkles, but merely reflect the light from them using microprisms. One of the ingredients used is normally found in hair spray (being the key thing that 'sets' the hair). Another is petrolatum, a petrolium jelly that is banned in Europe.