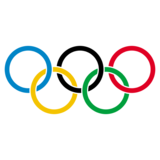 Truth In Aging
's
Anti-Aging Olympics nomination: Going Green
Dessert Essence Organics' Age Reversal Pomegranate Face Serum ($14.99, 2 fl.oz.)
As documented
elsewhere
on this blog, the pomegranate fruit has proven to be quite a powerhouse
when it comes to skin care -  from UVA- and UVB-induced damage control, to skin regeneration,
to hyperpigmentation control, to collagen production, to chemopreventative activity, collagen deterioration inhibition, and even increased SPF protection! If anything deserves to be dubbed a superfruit, then it is pomegranate.
And that's why I was particularly excited to try out
Dessert Essence Organics' Age Reversal Pomegranate Serum
. Formulated for all skin types to smooth wrinkles and improve skin texture and tone, it contains a plethora of powerful antioxidants and organic botanical extracts to help reverse the signs of aging (especially due to sun damage).  That's good news for a girl who is just now noticing the tell-tale signs of sun damage on her face, back, and even *gasp* her bosom!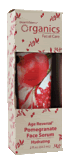 For starters, let me just say that the serum's consistency is not my favorite. It's thick, with an almost Elmer's glue-like consistency (but without all the stickiness) that sits on my face for quite a while. Definitely an unfavorable comparison to some of the other serums out there that I've tried. And enough of an issue (for me at least) to cause me to look elsewhere despite the attractive price tag. At $14.99 for 2 fluid ounces, you certainly can't beat it!  But if it's such a chore to put on everyday, having to rub it in good and hard to get any subjective feeling of absorption, then why bother?
However, the price is right and it's so chock full of some of my favorite antioxidants and botanicals that I'm considering keeping it around to apply to my neck and décolleté. What's more, the company's got a conscience: it's 100% vegan, wheat & gluten free, with no parabens, sodium lauryl/laureth sulfates, phthalates, artificial fragrances or colors, silicones, EDTA, glycol or petroleum-based ingredients, and cruelty free and biodegradable (with no animal testing of raw materials or finished product).
So what's in it that I like so much?
The extracts
Pomegranate extract.
The polypehnol ellagic acid found in the fruit's extract has been shown to strengthen the cell membrane, making it less susceptible to free radical damage and preventing moisture loss. It's also especially effective in protecting skin cells by inhibiting the formation of harmful enzymes that cause cells to grow out of control. For a more thorough review of the miraculous pomegranate, check out:
What is it: Pomegranate.
Grape Seed Extract.
Present in the skin and seed of grapes, this extract contains resveratrol—a potent antioxidant, anti-inflammatory, anti-cancer, and anti-proliferative agent. What's more, studies have shown that compounds found in grape seed can reduce the DNA damage that occurs even after UV exposure. It also facilitates wound healing and protects collagen and elastin from degradation.
Green tea extract.
Green tea polyphenols have been found to be particularly effective for a number of things: for its proven antioxidant properties, for its ability to repair UV photo-damage and phototoxicity,  for its treatment and/or care of dry skin conditions, and for its anti-inflammatory and anti-carcinogenic potential.
Cucumber extract.
Turns out there's really a legitimate reason why women of decades past have been applying cucumber slices to their tired eyes.  Apparently studies have shown that this extract firms and tones the skin while keeping it soft and hydrated.
The Vitamins
Vitamins C & E.
Both powerful antioxidants, vitamins C & E have been shown to protect the skin from photodamage by decreasing the ability of UV radiation to produce free radicals.
Vitamin A.
Numerous studies have shown that vitamin A-based products are apt at reversing the signs of aging, in particular by tackling surface roughness, hyperpigmentation, and fine wrinkles. Check out the post
What is it: Retinyl Palmitate
for further discussion.
The oils
Olive oil.
Extracts taken from the olive fruit, its leaves and stems show anti-inflammatory and active oxygen scavenging effects, perhaps due to its rich combination of fatty acids, triglycerides, tocopherols,
squalene,
carotenoids, sterols, polyphenols, among other good things. It can be applied topically to treat skin damage, and has been shown to effective reduce UVB-induce skin tumors.
Rosehip seed oil.
According to other reviewers on this site, rosehip seed oil has been rumored to be even better than argan oil (which you can read about here
What is it: Argan Oil
). It is extremely high in essential fatty acids (such as linoleic acid or omega-3, and linolenic acid or omega-6) and has been shown to be an
effective treatment for dry, weathered or dehydrated skin. What's more, it softens and minimizes scars and is the predominant oil used in many formulas for treating
wrinkles and aging.
And one more thing...
Coenzyme Q10.
Or ubiquinone, is a fat-soluable antioxidant found in every living cell that is necessary for cellular energy production. Since CoQ10 levels are reported to decrease with age, topical application of the stuff helps rejuvenate the look of aging skin. A 1999 study by German researchers reported that long-term use of CoQ10 reduced crows feet. Check out
What is it: Co-enzyme Q10
for more information.
But with an unfortunate No-No!
Phenoxyethanol. As Marta recently pointed out in the post What is it: Phenoxyethanol and is it safe?, the preservative phenoxyethanol has recently been turning up in a slew of organic products wanting to tout the paraben-free line.  However, as she methodically documents, it has been shown to have some rather nasty side-effects.  These include: the
shut down of the central nervous system, vomiting and contact dermatitis, as well as documented allergic reactions.
Ingredients:
Aqueous Infusion of Certified Organic Extracts: Camellia Sinensis (Green Tea) Leaf† and Punica Granatum (Pomegranate) Fruit, Organic Vegetable Glycerin, Organic Caprylic/Capric Triglyceride‡, Cetearyl Olivate (from Olive Oil), Xanthan Gum, Certified Organic Rosa Moschata (Rosehip) Seed Oil*, Vitis Vinifera (Grape) Seed Extract, Magnesium Ascorbyl Phosphate (Vitamin C), d-alpha Tocopherol (Natural Vitamin E), Retinyl Palmitate (Vitamin A), Ubiquinone (Coenzyme Q10), Phenoxyethanol, 1,2-Octanediol, Certified Organic Essential Oil Blend*.
Related articles
Desert Essence aluminum-free deodorant