The last Five Best Moisturizers round up was in March and there has been some important new discoveries since then. All of these moisturizers do their basic hydrating job well and they also come with some great anti-oxidants. Note there is a separate Five Best list for serums.
Image Skincare Ormedic Balancing Bio-peptide Creme.
This is very much a survivor from the March list. I am still a regular and very happy user. I think this must be one of the few creams in the world that doesn't have water (aqua) as its dominant ingredient. That position is reserved for aloe (organic, of course), followed by olive and apricot (responsible for the smell). The main anti-oxidant is hydroxydrecyl ubiquinone more commonly known as Coenzyme Q10 or CoQ10 (there are plenty of studies to back up the radical scavenger claims of this ingredient). There is shea butter, lots of other plant extracts, grape seed (another anti-oxidant with a proper pedigree), and vitamin C. And that is it. Probably more amazing for all the crap that isn't in it than for what is, this is one of the purest products yet!. Not easy to come by: my source is http://www.ildipekar.com.
Stem Organics Hydrating Face Fluid $58 for 1.7oz.
This Australian potion maker is committed to planet and skin friendly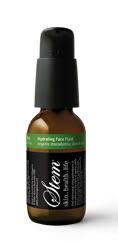 ingredients, but also has a couple of signature actives that make this range worth seeking out. These include kakadu plum, an 
Australian fruit that packs a huge amount of vitamin C, pomegranate and Tasmanian kelp. There are too many anti-oxidant botanicals to mention, bit it is worth calling out another obscure Aussie bush, the mulla mulla, as well as gotu kola, an Asiatic plant that is known for its would healing properties. In addition there are vitamins B5 and E.
This moisturizer is very good for calming irritated skin.
Mychelle Fruit Enzyme Hydrating Mist $18 for 4.4oz. This is wonderful for parched skin under the onslaught of air conditioning. The base is heavy water Because it doesn't evaporate, it helps the skin retain moisture. Heavy water is a good thing to use after a laser treatment or peel. The other thing of interest is a spin trapper. This is something that is used in the study of free radicals and the most commonly used spin trap is Phenyl N-tert-butylnitrone (PNB). Apart from radical trapping, PNB protects against photodamage. Being a Mychelle product, this mist contains no parabens or other unwanted preservatives. It has witch hazel, fruit enzymes, pineapple, date palm and turmeric.
Nutra Luxe Men Only Daily Moisturizer and Skin Protector $51.50 for 0.5oz. It has, like the rest of the range, no chemicals. Nutra Luxe goes out of its way to boast that the products are paraben-free, but in fact there aren't any preservatives at all. This is extremely rare in my experience, but a relief since most of the known irritants and toxins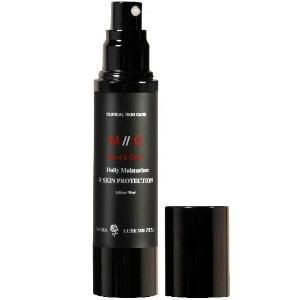 in cosmetics are preservatives. What about what is in it? Some good anti-oxidants: astraxanthin, green tea, sea kelp, palmitoyl pentapeptides and coenzyme Q10. There is also DMAE, vitamin C and E, hyaluronic acid, alpha lipoic acid and retinol. There is SPF 30 sunscreen and my only quibble with this product is that the active sunscreen ingredients are not named. Nutra Luxe Men also has an ingredient that is apparently relatively new to cosmetics. This is lutein, a carotenoid found in leafy, green vegetables.
Yes to Carrots Daily Moisturizer
has a couple of preservatives that could be irritants, but it is hard to quibble with something that packs in a lot of good ingredients for only $14.99. In addition to carrot, there is green tea, vitamin E and squalane. The base is Dead Sea water and aloe. For moisture there is squalane and avocado.