There is a posh name for those lumps and bumps on the upper arms: keratosis polaris. They are supposed to be hereditary and, somehow, that seems to give doctors and dermatologists permission to shrug and say that not much can be done about them. Not true. Arm bumps can be banished; it just requires ongoing effort.
As with most things in life, there isn't a silver bullet for keratosis polaris. So, rather than trying out one thing and hoping for a miracle that doesn't come, a slew of weapons is generally required. The first is a good body scrub. I like the ones made by Bliss (Lemon & Sage, or Vanilla & Bergamot Body Buff). A new find is Trillium Organics Body Polish with a calming lavender and geranium scent, or a more stimulating grapefruit.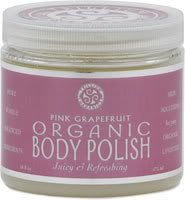 Next is a good cleanser. I know I keep banging on about Japanese black charcoal, but it works wonders at getting impurities out of the skin.
Finally, alternate the body scrub with the Clarisonic brush on either dry or wet skin.
Keep this up and arm bumps are gone for good.