LiftLab Purify + Clarify Daily Cleanser & Detox Mask Review
Pros
Leaves skin soft and nourished
Cons
None
Our Take
A decent all round cleanser for all occasions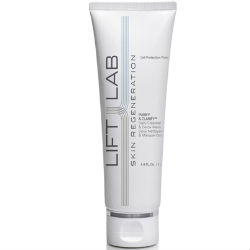 Our Rating:
I am in my late 30s with the combination skin prone to mild breakouts. I have been testing the LiftLab Purify + Clarify Daily Cleanser & Detox Mask ($65 in the shop) for several months and can report that it met my expectations.
Several reviews in the TIA community have described in detail the wonderful ingredients that the product contains (see Vickie's review Of Purify + Clarify), particularly interesting enzymes and botanicals. I found the cleanser to be effective enough to remove traces of makeup and impurities and at the same time gentle enough not to strip the skin such that it feels dry after cleansing. I have been using this cleanser primarily as 2 in 1: first cleansing with Clarisonic and then leaving it as a mask, following the recommendation of the makers.
It lathers nicely, has a non-offensive smell and cleanses thoroughly. It leaves your skin soft and nourished to the feel because it is a gentle exfoliant. While not exactly cheap ($65 in the shop), it lasts a really long time. You only need a pearl-sized amount to get the job done. I have used it for several months twice a day I have barely made a dent in the tube. I did not have any issues with this product. All in all, I heartily recommend it for pretty much all skin types, including sensitive ones. LiftLab Purify + Clarify is a decent all-around cleanser for all occasions.
Editor's note: See our reader roundup of reviews of LiftLab Purify + Clarify
Ingredients in LIFTLAB Purify + Clarify: Daily Cleanser & Detox Mask
Water (aqua), myristic acid, glycerin, potassium hydroxide, stearic acid, peg-dipropylene glycol, lauric acid, olive oil peg-7 esters, crambe abyssinica seed oil, beeswax, peg-100 stearate, glyceryl stearate, cocamidopropyl betaine, hydrogenated jojoba oil, maltooligosyl glucoside, citrus aurantium amara (bitter orange) peel oil, hydrogenated starch hydrolysate, peg-40 hydrogenated castor oil, jojoba wax peg-120 esters, cetyl alcohol, phenoxyethanol, sodium chloride, ormenis multicaulis extract, butyrospermum parkii (shea) butter extract, tocopheryl acetate, tetrasodium edta, melia azadirachta leaf extract, melia azadirachta flower extract, amino esters-1, roe extract, coccinia indica fruit extract, solanum muricatum fruit extract, sodium hyaluronate, aloe barbadensis flower extract, fish plasma protein (cell protection protein®), disodium phosphate, pearl powder, ocimum sanctum leaf extract, ocimum basilicum (basil) extract, lawsonia inermis extract, curcuma longa (turmeric) root extract, sodium phosphate, tin oxide, synthetic fluorphlogopite, titanium dioxide
Is LIFTLAB Purify + Clarify: Daily Cleanser & Detox Mask Right for Me?
Suitable for all skin types
Suitable for sensitive skin
Exfoliates gently
A little goes a long way
LIFTLAB Purify + Clarify: Daily Cleanser & Detox Mask is a Solution for:
Combination Skin, Sensitive Skin