LIFTLAB Purify + Clarify Cleanser Review
Pros
Lathers up nicely to leave skin feeling firm, clean, smooth and hydrated
Cons
The ingredients are not completely pure
Our Take
A multifaceted product that effectively acts as a cleanser, a mask and an exfoliant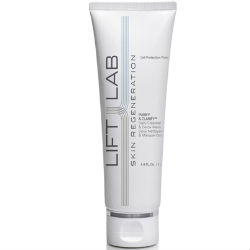 Our Rating:
by Lynne
When I was asked to test and review LIFTLAB Purify + Clarify ($65 in the shop), the daily cleanser, detox mask and gentle exfoliant, I immediately went and checked out their website for some background on this company. Liftlab bases their products on clinical research of plants in the Arctic, which create proteins to protect themselves from the harsh conditions. The company has patented this Cell Protection Protein (CPP), which is incorporated in all of Liftlab's anti-aging skin care products. You can read more about this company, their research and their philosophy on their website.
On to the cleanser! I am in my 40's, with normal to combination skin and hyperpigmentation. I used this cleanser twice a day for a month. The cleanser incorporates enzymes from caviar that exfoliate, an olive oil derivative that softens the skin and antioxidants for protection. The cleanser promises to be three things in one: a cleanser, a deep-cleaning mask and an exfoliant. I loved the versatility of this product, and found that it did indeed work effectively as all three, like it promised. Only a tiny, pea-sized amount of cleanser is needed, and boy, does this lather up! Honestly, I can't remember the last time I used a cleanser that lathered like this.
It has a light citrus scent and I got a deep cleanse that did not dry out my skin. I was able to skip makeup remover, as the cleanser effectively removed foundation (although not mascara). Small beads provide the gentle exfoliation. I general tend to not be a fan of exfoliation beads, as they always get stuck in my eyes and cause irritation. I found that the beads in this cleanser were tiny in size. Only a small amount of beads were contained in each usage, so it did not lead to any irritation or redness. When I had the extra time, I would lather up, apply as a mask and leave on for a 3 minute deep-clean.
Throughout my month of daily use, I did not experience any breakouts, redness or problematic reactions. My skin felt clean and firm, and looked hydrated and smooth. A 4.4 ounce tube will set you back $65, but will easily last you several months.
This product has not been reviewed on the EWG Skin Deep website. Liftlab reports they do not use parabens, though a quick glance at the ingredients shows they are not completely clean. A note on the fantastic lather: it is most likely due to Cocamidopropyl Betaine, a foam booster which scores a 4 on Skin Deep.
Ingredients in LIFTLAB Purify + Clarify: Daily Cleanser & Detox Mask
Water (aqua), myristic acid, glycerin, potassium hydroxide, stearic acid, peg-dipropylene glycol, lauric acid, olive oil peg-7 esters, crambe abyssinica seed oil, beeswax, peg-100 stearate, glyceryl stearate, cocamidopropyl betaine, hydrogenated jojoba oil, maltooligosyl glucoside, citrus aurantium amara (bitter orange) peel oil, hydrogenated starch hydrolysate, peg-40 hydrogenated castor oil, jojoba wax peg-120 esters, cetyl alcohol, phenoxyethanol, sodium chloride, ormenis multicaulis extract, butyrospermum parkii (shea) butter extract, tocopheryl acetate, tetrasodium edta, melia azadirachta leaf extract, melia azadirachta flower extract, amino esters-1, roe extract, coccinia indica fruit extract, solanum muricatum fruit extract, sodium hyaluronate, aloe barbadensis flower extract, fish plasma protein (cell protection protein®), disodium phosphate, pearl powder, ocimum sanctum leaf extract, ocimum basilicum (basil) extract, lawsonia inermis extract, curcuma longa (turmeric) root extract, sodium phosphate, tin oxide, synthetic fluorphlogopite, titanium dioxide
Is LIFTLAB Purify + Clarify: Daily Cleanser & Detox Mask Right for Me?
Lathers nicely and a little product goes a long way
Cleans and hydrates skin without causing irritation or breakouts
Leaves skin feeling smooth, soft and firm
Contains a few impure ingredients
LIFTLAB Purify + Clarify: Daily Cleanser & Detox Mask is a Solution for:
Combination Skin, Dry Skin, Dull Skin, Hyperpigmentation, Large Pores, Oily Skin, Sensitive Skin, Uneven Skin