LIFTLAB Purify+Clarify Cleanser Review
Pros
Deep cleans effectively enough to remove all traces of makeup, while noticeably reducing the size of pores
Cons
Is not notably powerful when used as a detox mask
Our Take
A hydrating cleanser that works to wipe away impurities without stripping the skin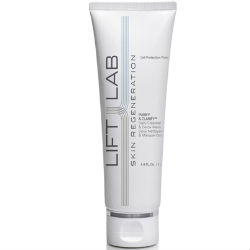 Our Rating:
LIFTLAB's Purify+Clarify ($65 in the shop) is billed as a 3-in-1 daily cleanser, gentle exfoliant and detox mask. LiftLab's website highlights the inclusion of the following ingredients in Purify+Clarify: Cell Protection Protein, a fish plasma protein "that encourages cell turnover to reveal smoother, more radiant skin." Aqualumine, a blend of enzymes derived from red caviar that provide exfoliation without irritation. And Olivem 300, an emollient and lubricant derived from olive oil.
In addition to these three ingredients, LiftLab's website also notes that Purify+Clarify includes a botanical blend that provides antioxidant protection.
Purify+Clarify has a light, marine scent that is pleasant. It has the texture of a creamy liquid with a few small particles thrown in (presumably for exfoliation, but fear not—these particles did not scratch or irritate at all.)
I am almost 37 with combination skin (oily t-zone, normal to dry elsewhere). I have thin, Irish rose skin that is sensitive and prone to blotchiness and mild rosacea.
There were a couple of things that I noticed with my first use of Purify+Clarify. The first is that a little bit really does go a long way with this product. A pearl-sized amount provided plenty of lather to cleanse both my face and my neck. The second thing I noticed was the squeaky-clean friction that occurred between my fingertips and my face as I rinsed the cleanser away. I personally do not like this sensation, but was able to resolve the issue by using a small, silicone pore cleansing pad rather than my fingertips.
Prior to my testing of Purify+Clarify, I was using an oil cleanser (DHC or One Love) plus Indie Lee Brightening Cleanser at night and then either One Love or Indie Lee in the morning. I also used a deep-cleansing, clay-based face mask twice a week, followed by pore strips on my nose and upper chin area. I was pretty happy with my routine.
For the first two weeks that I began testing Purify+Clarify, I didn't think that it was doing anything special enough to justify the high price tag or to cause me to make any changes in my previous routine. Sure, I noticed that my face felt really clean afterward and my pores did seem to be a bit minimized, but that wasn't enough to woo me.
It was during the second half of my month-long trial period that I truly began to appreciate Purify+Clarify. The second half of this past month was filled with several special events in very humid, 90-degree weather. Said special events necessitated quite the arsenal to achieve a flawless, picture-perfect look that would hold up against the weather and my oily t-zone (while providing sun protection): two serums, primer, BB cream, powder foundation, finishing powder, contouring powder, highlighting powder, blush and a makeup setting spray. At the end of the day, when it was time to "take my face off", Purify+Clarify was all that I needed to strip everything away (with the exception of eye makeup)—and it did so without making my face feel stripped.
All of the special events also left me with very little time to do my usual bi-weekly deep-cleansing ritual. Fortunately, and thanks to Purify+Clarify, I wasn't getting the usual congested feeling in between deep cleanses. Still, I was able to fit in at least one deep cleansing per week. Normally, if I waited a full week to deep cleanse, I would really see it on the pore strips. Amazingly, after a few weeks of using Purify+Clarify, the amount of gunk on the pore strips was minimal.
At the end of my trial, there is a noticeable reduction in the congestion of my pores which has led to a noticeable reduction in my pore size. I haven't noticed any significant changes in the smoothness and radiance of my skin. However, I do use serums and moisturizers that provide those benefits, so I wasn't expecting a cleanser that is only on my face for a few minutes to exceed beyond what they do. As for the gentle exfoliation claim, I would agree. The cleanser did provide some mild exfoliation without ever irritating my skin. As a detox mask, it did not work as I had hoped. I tried using Purify+Clarify as an alternative to one of my clay-based masks before using pore strips. Purify+Clarify was no match. However, as a daily cleanser, the cumulative detox effects have reduced the number of times that I need to deep cleanse.
After 30 days, I still have a solid third of a 1 oz. sample left (with average use being once a day). Thus, a full-sized 4.4 oz. tube will likely last around 6.5 to 7 months, which works out to about $10 a month to use. I am pleased enough with the results that I am willing to make the investment in the full size. Given that I no longer need to double cleanse or to deep cleanse twice a week, I may actually save money by making a permanent switch to Purify+Clarify!
Ingredients in LIFTLAB Purify + Clarify: Daily Cleanser & Detox Mask
Water (aqua), myristic acid, glycerin, potassium hydroxide, stearic acid, peg-dipropylene glycol, lauric acid, olive oil peg-7 esters, crambe abyssinica seed oil, beeswax, peg-100 stearate, glyceryl stearate, cocamidopropyl betaine, hydrogenated jojoba oil, maltooligosyl glucoside, citrus aurantium amara (bitter orange) peel oil, hydrogenated starch hydrolysate, peg-40 hydrogenated castor oil, jojoba wax peg-120 esters, cetyl alcohol, phenoxyethanol, sodium chloride, ormenis multicaulis extract, butyrospermum parkii (shea) butter extract, tocopheryl acetate, tetrasodium edta, melia azadirachta leaf extract, melia azadirachta flower extract, amino esters-1, roe extract, coccinia indica fruit extract, solanum muricatum fruit extract, sodium hyaluronate, aloe barbadensis flower extract, fish plasma protein (cell protection protein®), disodium phosphate, pearl powder, ocimum sanctum leaf extract, ocimum basilicum (basil) extract, lawsonia inermis extract, curcuma longa (turmeric) root extract, sodium phosphate, tin oxide, synthetic fluorphlogopite, titanium dioxide
Is LIFTLAB Purify + Clarify: Daily Cleanser & Detox Mask Right for Me?
Gently exfoliates without irritating skin
Completely washes away makeup and dirt
Noticeably reduces pore size and congestion
Is not overly effective as a detox mask
LIFTLAB Purify + Clarify: Daily Cleanser & Detox Mask is a Solution for:
Combination Skin, Dry Skin, Dull Skin, Large Pores, Oily Skin, Sensitive Skin