Liftlab Purify + Clarify Daily Cleanser Review
Pros
Keeps skin hydrated, while tightening pores, preventing breakouts and eliminating excess oil
Cons
None
Our Take
A very effective multitasking product that not only cleans skin, but exfoliates and moisturizes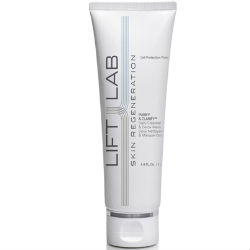 Our Rating:
by Ann
As I near the end of my 40s, I find that my skin is more sensitive to change. I have combination skin with large pores around the nose and I get occasional outbreaks of rosacea. It took me several months to get over the last flare-up so I was a little hesitant to try anything new on my skin. However, LiftLab Purify + Clarify Daily Cleanser ($65 in the shop) has some interesting ingredients, including turmeric, which is a natural anti-inflammatory that has worked well for me in the past. My skin also responds well to marine compounds, which LiftLab has in abundance with its patented Aqualumine ingredient, so I was curious how I would respond to the LiftLab product.
This is a very rich cleanser and one needs only a tiny amount, pea-size or even smaller. It lathers nicely with a mild exfoliation that never scratches or feels harsh. The product rinses clean, not just to the touch but at the pore level. When I wipe a cotton round with Micellar water over my face, it comes back without cleanser or makeup residue. This was a pleasant surprise, since I had to double-cleanse with my previous products.
In addition to cleansing, the LiftLab product can also be used as a mask. I tried this in the shower a few times and although my skin thanked me for it, I had trouble keeping it out of my eyes. A less steamy environment would've been better for this experiment because this is a cleanser that melts easily in the presence of water. After four weeks of morning and after-work use, I feel like my skin is well-hydrated and my T-zone a little less oily. My pores are tight and I've had no breakouts. I was a little concerned at first by the exfoliating properties of the LiftLab cleanser, but it proved to not be at all harsh and my skin looks youthful and healthy.
Although the price is a little high for a cleanser, the 4.4 oz tube is generous and will last a long time. It's easy to dismiss cleansers as unimportant in light of all the serums and creams that come after, but this is a game-changer for me, and I highly recommend the LiftLab Purify + Clarify Daily Cleanser for both normal and sensitive skin.
Ingredients in LIFTLAB Purify + Clarify: Daily Cleanser & Detox Mask
Water (aqua), myristic acid, glycerin, potassium hydroxide, stearic acid, peg-dipropylene glycol, lauric acid, olive oil peg-7 esters, crambe abyssinica seed oil, beeswax, peg-100 stearate, glyceryl stearate, cocamidopropyl betaine, hydrogenated jojoba oil, maltooligosyl glucoside, citrus aurantium amara (bitter orange) peel oil, hydrogenated starch hydrolysate, peg-40 hydrogenated castor oil, jojoba wax peg-120 esters, cetyl alcohol, phenoxyethanol, sodium chloride, ormenis multicaulis extract, butyrospermum parkii (shea) butter extract, tocopheryl acetate, tetrasodium edta, melia azadirachta leaf extract, melia azadirachta flower extract, amino esters-1, roe extract, coccinia indica fruit extract, solanum muricatum fruit extract, sodium hyaluronate, aloe barbadensis flower extract, fish plasma protein (cell protection protein®), disodium phosphate, pearl powder, ocimum sanctum leaf extract, ocimum basilicum (basil) extract, lawsonia inermis extract, curcuma longa (turmeric) root extract, sodium phosphate, tin oxide, synthetic fluorphlogopite, titanium dioxide
Is LIFTLAB Purify + Clarify: Daily Cleanser & Detox Mask Right for Me?
Exfoliation is gentle and cleansing is deep and thorough
Hydrates skin while getting rid of excess oil
Tightens pores and fights off breakouts
LIFTLAB Purify + Clarify: Daily Cleanser & Detox Mask is a Solution for:
Combination Skin, Dry Skin, Dull Skin, Large Pores, Oily Skin, Sensitive Skin