The Truth Vitality Lux Renew is a groundbreaking beauty tool, a 3-in-1 device that helps firm and smooth skin and treat acne with a combination of LED light and ultrasound treatments. If you own a Lux Renew, then you most likely already know what all the buzz is about.
The Lux is getting around! Truth in Aging community members aren't the only ones sharing how the Truth Vitality Lux Renew works for them. Now more than ever, others are catching on to what has long felt like a Truth in Aging secret. 2016 has been a big year for spreading the Lux love, and I couldn't be more proud. Here are what beauty editors and dermatologists are saying about the Lux Renew:
Shape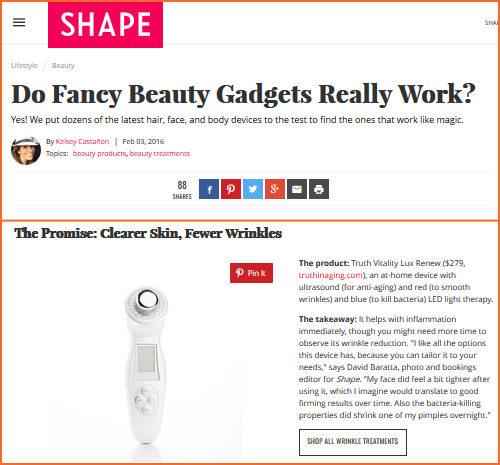 From Shape.com:
"It helps with inflammation immediately, though you might need more time to observe its wrinkle reduction. 'I like all the options this device has, because you can tailor it to your needs,' says David Baratta, photo and bookings editor for Shape. 'My face did feel a bit tighter after using it, which I imagine would translate to good firming results over time. Also the bacteria-killing properties did shrink one of my pimples overnight.'"
Dr. Whitney Bowe
From Dr.WhitneyBowe.com:
"If you are needle-phobic or not quite ready to take the plunge for injections, this is a great option! I also recommend it to my patients for use in between our appointments to maximize their results from in-office procedures! It can complement procedures for tightening (Ultherapy, Thermage), redness (V-beam) or acne (Peels and Theraclear), allowing you to get more out of each treatment and extending the results so you can space those treatments farther apart. For a cost-saving option, this is one of the better products I've tested!"
Refinery29
From Refinery29.com:
"Many people are skipping the spa and doctor's offices altogether and taking matters into their own hands with less expensive, DIY treatments and tools. The Kline Group reports that the at-home beauty devices market increased 14% globally in 2014, and continues to rise. "Manufacturers and brands are in a race to make the next Clarisonic,' says Schook. That rush to the patent office has produced some impressive technology. 'At-home chemical peels and devices such as Truth Vitality's Lux Renew offer blue and red LED as well as ultrasound for anti-aging and anti-acne treatment,' says King."
You can find more Lux love on our press page and share your own by leaving a review or telling us on Facebook, Instagram or Twitter (@truthinaging) using #LuxLove.