Male Order: Mario Badescu Cucumber Cleansing Lotion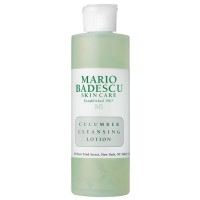 I'm very fickle. One day I like skim milk, the next day whole. Chicken for one week, tuna the next.  This past week, I've been all about astringent.
There's always great confusion when it comes to toners (which I've been using for months) and astringents: in a nutshell, astringents contain alcohol. With that said, it's a little more "harsh" but that doesn't necessarily translate as a bad thing. While toners are generally used to keep the face hydrated and nourished, a deep cleanse will be quite effortless for the astringent, which is quite practical for controlling surface oils. (In fact, you can test this out yourself. Take a cotton pad with toner and wipe your face, and do the same with astringent. You'll see the difference). Astringents work better for oily or combination skins as it can potentially dry your skin out if you're normal or, uh, dry. I happen to be in the oily category; astringents are probably a better option for me.
This is where Mario Badescu comes in. I like the brand because they use minimal ingredients in all their products. The Cucumber Cleansing Lotion ($15) does have alcohol like most astringents and some might argue its one of the most drying (isopropyl). So I would avoid this astringent if you have uber-dry skin. I, on the other hand, have uber-oily skin. Even if I were to strip away the natural oils right away, they  come back in full force within hours (and some of the moisturizers I tend to use have an oily-base to justify).
The Cucumber Cleansing Lotion is quite refreshing. It's mostly to sooth and cool (ever put fresh cucumber slices on your eyelids?). There are actual cucumber seeds in the bottle, which is also nice. The product helps unclog pores and prevents further break outs. I mean, what does alcohol do when you come down to it? Disinfect.
You don't have to use astringent every day if it's something you want to incorporate in your regime. Just use it when necessary.
In my opinion, the astringent isn't as harsh as one would think, and I'm confident I'm getting a stronger cleanse in the mornings.
Now, sticking with it forever? Unlikely, with my fickle self.
Ingredients:
Deionized Water, Isopropyl Alcohol, Nonoxynol-9, Boric Acid, Cucumber Extract
is a Solution for:
Dull Skin, Oily Skin