Men's moisturizers: Urth and Menscience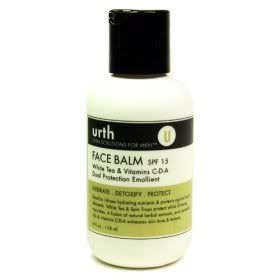 Judging by Truth In Aging's mail, there are a fair few men out there who check in regularly so I try to keep an eye out for good male skin and hair care products. Sadly, I feel that I am becalmed in a sea of mediocrity. One of the few products to briefly lift my spirits was Urth Face Balm. It has plenty of vitamins. However, you will be taking your chances with the sunscreen, oxybenzone, about which there is fairly good evidence linking it to cancer.
I keep gravitating back to Menscience. Although Menscience Advanced Face Lotion is not a breakthrough product, it is a perfectly good moisturizer that does no evil and has enough going on to do some good. Avocado, shea and squalane for moisturizing and green tea, vitamins A, C and E for fighting the good fight against free radicals. White willow extract forms the basis of aspirin and will be anti-inflammatory for razored cheeks.
is a Solution for:
Face Care for Men