Mukti Hydrating Cleansing Lotion Review
Pros
Cleanses and nourishes skin, removes light makeup
Cons
Has a slightly dry and musty smell
Our Take
A moisturizing lotion that gets rid of impurities and refreshes all skin types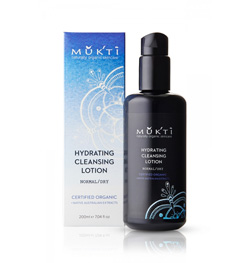 Mukti, the Australian brand of organic skin care that is a favorite in the Truth In Aging community, has had a complete makeover. Packaging and formulas have all been revamped. What remains is Mukti's commitment to natural ingredients and organic extracts from native plants. I got to know the re-launched line with Mukti Hydrating Cleansing Lotion ($39.02).
What better place to start than the most fundamental and essential component of a beauty regimen: the cleanser. As you might anticipate, Mukti Hydrating Cleansing Lotion is a creamy and non-foaming cleanser. Years ago, when I learned that foaming surfactants were typically nasty, harsh ingredients I said goodbye to suds and haven't looked back.
Mukti's cleanser emulsifies nicely, cleanses and lifts light makeup (I didn't try it on anything heavy duty). Although it calls itself a "hydrating" cleansing lotion, I think it would work for all skin types, and oily skins needn't be frightened off. Dry skins will certainly find it nourishing with its base of nut oils and shea butter.
When I first used this cleanser, I noted the citrusy scent of the sweet orange. However, after a few weeks this has been superseded by a drier and mustier smell that I don't particularly like. Having said that, scent is rarely a deal breaker for me and it hasn't stopped me using the product.
I have been wondering if mountain pepper leaf is responsible, since this reportedly does have a sharp aroma. In any case it is an interesting botanical that comes from a native Australian tree and has recently been popularized as "bush food". As well as having a chile pepper tang, the berries are full of antioxidants. There's also a Mukti favorite, Kakadu plum with one of the highest concentrations of vitamin C of any fruit, along with beneficial phytochemicals.
Finally, a distinctive feature of the new Mukti range is the use of Miron glass (newly fashionable, you'll find it is also used by I Pekar and BRAD), which has properties that enhance the container's ability to preserve the product within. We have more testers of the new Mukti range out amongst the Truth In Aging community of reviewers, and I'm interested to see what the verdicts are. Mine is that Mukti has succeeded in raising the bar.
Ingredients in Mukti Hydrating Cleansing Lotion
Aloe barbadensis leaf juice*, Macadamia ternifolia (Macadamia) nut oil*, Butyrospermum parkii (Shea Nut) butter*, Cocos nucifera (Coconut) oil*, Terminalia ferdinandiana (Kakadu Plum) & Tasmannia lanceolata (Mountain Pepper Leaf) extracts*, cetearyl glucoside (vegetarian), Olea europaea (Olive) oil*, Theobroma cacao (Cocoa) butter*, glycerin (vegetarian)*, phenethylalcohol (natural)*. Essential oils of Lavandula angustifolia (Lavender)*, Citrus aurantium (Sweet Orange)*, Cedrus atlantica (Cedarwood)*, Cymbopogan martinii (Palmarosa)*, Vanilla planifolia (Vanilla) & Rosa centifolia (Rose) absolute.
*Certified organic by the Organic Food Chain (OFC). Organically produced 97% of product.
Naturally occurring constituents in essential oils: cinnamal, citral, citronellol, eugenol, farnesol, geraniol, limonene, linalool.
Is Mukti Hydrating Cleansing Lotion Right for Me?
Cleanses skin and removes light makeup
Is moisturizing and nourishing
Suitable for all skin types
Acquires a dry and musty smell after a few weeks
Mukti Hydrating Cleansing Lotion is a Solution for:
Combination Skin, Dry Skin, Oily Skin