After much trial and tribulation, leading perilously close to despair, I seem to have found a hair care regime that works. It could still benefit from some refining (I'm not entirely convinced by the Aesop mask). Hair seems to be extremely personal and what works for me may not work for others. Anyway, this is what is currently working for me.
Dr Alkaitis Organic Shampoo.
This is the best shampoo I have ever used (which isn't necessarily saying much since most on the market would be better used to do the dishes). Everything is natural and derived from plants: aloe, coltsfoot, coconut, and vitamins. My hair seems to have the right balance of bounce without frizz and each wash lasts about three days.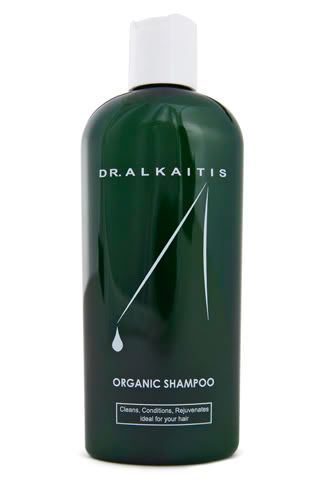 Philip B Shin Shine.
Although I don't trust a man who hides his family name (what does the B stand for; something embarrassing or merely boring?), Philip B's products are pretty good. It looks as if someone didn't do a good job of proof reading the label, but the oddly named Shin Shine does the job and isn't full of crap. There are nine ingredients in all. Two are light silicones, some fragrance and the rest are plant extracts.

Aesop Rose Hair & Scalp Moisturizing Masque.
Most days I just go with Dr Alkaitis and Shin Shine. Once a week or so I add in a mask. I am currently trying Aesop's with
rose, lavender and grapefruit.
It is a good anti-frizzer for those who want to avoid silicone overload. A little goes a long way; too much results in limp locks.
There are a few add hoc products that are worth mentioning:
Skin Biology Folligen.
A dab of copper peptides against thinning hair around the temples. It works.
Skin Biology's Emu Oil.
I use this as an occasional mask. It is supposed to stimulate the hair follicles and it is nourishing and soothing for the scalp.
Bumble & Bumble Hair Powder.
Helpful for hiding grease close to roots if you need to stretch things out between shampoos.
Related articles
Folligen and copper peptides  for hair loss
Five best shampoos
Five best for shine
Note that I am still looking for a good conditioner.