Shortly after I started Truth In Aging, I posted on my skincare regime (more in the interests of full disclosure than anything else). It has changed quite a bit and I think the new formulation is an improvement. Yesterday I saw a good friend whom I hadn't seen since January and she said "you look great". Then she did a kind of double take and  said "you really do look great". This has happened a few times in recent weeks, so something must be going right. Maybe its all the wolfberry juice I'm drinking.
I can see a difference myself. I don't think I've lost any wrinkles, but I do think that my skin looks firmer and healthier. Anyway, here's the current regime:
Tracie Martyn's Amla Cleanser.
This has been my cleanser for at least two years and I still think its a great product that is doing good things for my skin. I credit Amla for keeping my rosacea under control. It is much more of a treatment than a mere cleanser with vitamin C, soy protein, amla (Indian gooseberry) and spinach extract.

Image Skincare Ageless Total Ant-Aging Serum.

 

I am just about to start my second bottle of this serum made by German plastic surgeons. It has
palmitoyl pentapeptide-3 (Matrixyl) and alpha hydroxy acids. It really seems to suit me and may be responsible for the healthy glow.
Zelens Radical Defense Serum.
I alternate this with the Image Skincare serum. It has retinol and a powerful anti-oxidant called
dimethylmethoxy chromanol. I can't quite decide if it is having much of an effect.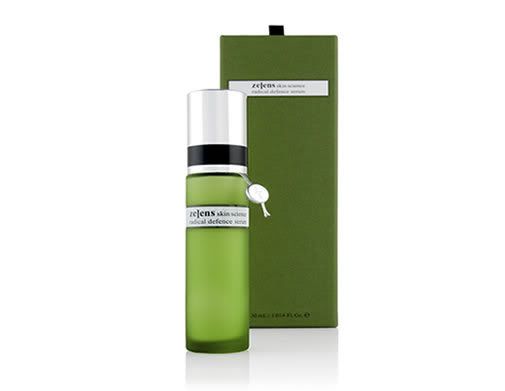 Ischia Thermae's Thermal Eye and Lip Cream.
I rotate this with the Neova Eye Therapy which has copper peptides because I think Neova is
having a good longer term effect of building up cells, whereas Ischia
gives a more immediate boost). I like it very much. Like all Ischia
products it is light, almost weightless and is very hydrating. Puffy
eyes are a thing of the past.

Image Skincare Ormedic Balancing Bio-peptide Creme.
This is my new daily moisturizer and I am loving it. I think this must be one of the few creams in the world that doesn't
have water (aqua) as its dominant ingredient. That position is reserved
for aloe (organic, of course), followed by olive and apricot
(responsible for the smell). The main anti-oxidant is hydroxydrecyl
ubiquinone more commonly known as Coenzyme Q10 or CoQ10 (there are
plenty of studies to back up the radical scavenger claims of this
ingredient). There is shea butter, lots of other plant extracts, grape
seed (another anti-oxidant with a proper pedigree), and vitamin C.
Osmotics Anti-Radical Age Defense Barrier Longevity Complex.
I have only just started to use this. I am still at gingerly test-patching stage to make sure I don't have an allergic reaction (I do this with all new potions since I have ridiculously sensitive skin that makes the princess in The Princess and the Pea look like a trooper). I have high hopes for this product since it combines
t
ripeptide-1 with soy and
wheat creates something called aldenine, which is supposed to be a
powerful booster of collagen production, and carnosine, which is meant to extend the Hayflick Limit.
Finally exfoliation. There are three things I like to use: the
Clarisonic
brush,
Tracie Martyn Enzyme Exfoliant
and
Stem Organics Smooth Skin Exfoliant.