Neocutis' Bio-Restorative Skin Cream intrigued me for two reasons - both, I'll admit, a little perverse. The key ingredient is derived from fetal skin cells and the prospect of having a moral majority picket outside my apartment block is almost welcome. Think of all the free publicity. If I play my cards right George W might even weigh in. Secondly, it could give me an excuse to make a gratuitous stab at Dr Perricone, who has his own stem cell cream called Stimulcell (this doesn't contain actual stem cells, but is supposed to encourage them to grow). Despite my unworthy thoughts, I could be vindicated: Neocutis Bio-Restorative might turn out to be a good cream.
The cells that Neocutis uses are in a Swiss cell bank that was started years ago from a single skin biopsy of a fetus. The University Hospital of Lausanne has been using cultured fetal skin cells to process proteins that will heal wounds without scarring. For impressive (although admittedly not very pretty) pictorial evidence, see below (the right leg has been treated):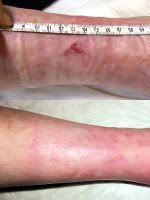 The company conducted a study that suggests Bio-restorative could be good for rosacea. The results were positive, but the sample (four patients) too small to be conclusive. Whether Bio-restorative will be an effective anti-ager remains to be seen. Having looked at all the ingredients, I'd be willing to give it a try. It is mercifully free of additives, fragrance or potential irritants. The only teensy quibble I have is the use of BHT, a preservative that has been banned from being used in food in Europe and can't be used in baby food production in the US.
Along with watches and chocolate, the Swiss may have come up with another major export (just don't mention the word fetus).