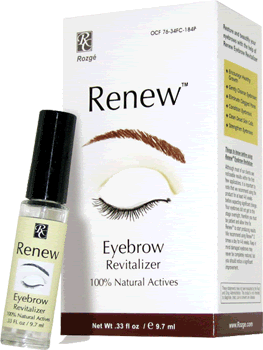 Eyebrow and eyelash growth products never cease to attract attention. I am not sure why because I don't think lashes or brows really attract attention at all. I know all we are supposed to do is bat them and men will fall out our feet,  but I'm not men really notice eyelashes or lack thereof. What about eyebrows? They can be raised quizzically at a bad chat up line - useful but that's about it. Anyway, I'm clearly in a minority of one so here are a couple of products from Rozge Labs called Renew that might actually work and, at least, will do no evil.
After getting comments that Anastasia Nu-Brow doesn't do anything to encourage bushy brows, I've been on the look out for something more promising. Rozge Labs Renew Eyebrow Revitalizer seems worthy of trying out.  As well as a few oils and plant extracts, it has apigenin (an anti-oxidant and anti-inflammatory) and biotinyl tripeptide (a protein that prevents the breakdown of collagen). If there is an active ingredient it might well be niacin, a vitamin B. Hair is supposed to benefit from vitamin B, although it isn't certain whether it can be absorbed topically. It also has another form of vitamin B, pyrodoxine and panthenol, a pro-vitamin B5.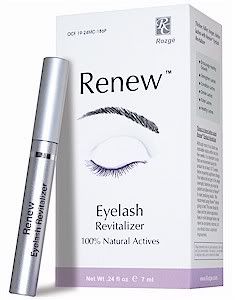 Ever since controversy erupted a few months ago about eyelash growth products containing a drug to treat glaucoma called prostagandin and that, in turn, led to Jan Marini withdrawing her product from the market (incidentally, her head of marketing says that we shouldn't say that Age Intervention Eyelash Conditioner was the subject of an FDA recall, but that seems like splitting hairs to me), people are on the look out for safe and effective alternatives. The thing about Marini's product is that it did work and most of the others don't.
Renew Eyelash Revitalizer has a couple of moisturizers, oils and something called Renew Growth Factor. This is a concoction of apigenin (anti-oxidant), vitamin E, oleanonic acid (derived from plants and used to treat wounds), vitamin B, and proanthocyanidin (usually extracted from grape seeds and a good anti-oxidant and anti-ager). I haven't found any evidence that these ingredients will help eyelashes grow, but I haven't found anything that says they won't.