Reviewed and recommended: Christophe Robin Creme Lavante au Citron for color treated hair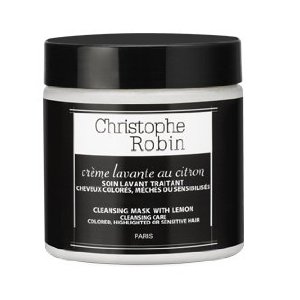 I was recently switched on to Christophe Robin by a friend who lived in Paris for a time. Christophe Robin is France's classy colorist and his brand of hair care products are mostly aimed at keeping highlights shiny and intense and restoring to your locks all the things that chemical color treatments strip away.
I must admit that my first reaction on receiving my pot of Lavante au Citron ($52) was faint disappointment. At first glance, most of the ingredients seemed to be standard chemical conditioners (such as guar hydroxypropyltrimonium chloride, which is a detangler) or behenyltrimethyl methosulfate. And then a thought struck me: there are no detergents, sulfates, surfecants or cleansers that typically make shampoo a shampoo.
In fact, the lemon extract in Lavante au Citron acts as an exfoliant and, once emulsified on the hair and scalp, cleanses without stripping away your expensive highlights. Lemon also rebalances the hair's pH, which typically becomes alkaline during the color treatment process. It is given a helping hand by chamomile and St John's wort. The yarrow stimulates circulation. Southernwood is said to prevent dandruff.
It makes a refreshing change to find a hair care product that doesn't have sulfates or silicones. The only thing to dislike in Lavante au Citron is methylchloroisothiazolinone, a preservative. In high concentrations it can cause chemical burns and it is a skin and membrane irritant and so it was largely removed from most cosmetic products except for those with only short duration skin contact such as rinse-offs. In the US accepted concentrations are 15 ppm in rinse-offs and 8 ppm in other cosmetics.
Lavante au Citron is designed to be used once every four shampoos in place of my regular rinse. I am mightily pleased with the results: soft, shiny hair and a definite depth to the color. $52 is pricey, but it should be worth it if it helps eke out a few extra weeks before having to hitting the salon again.
Ingredients in Christophe Robin Creme Lavante au Citron

Water, cocamide MEA, cetearyl alcohol, hydroxypropyl, guar hydroxypropyltrimonium chloride, decyl glucoside, cetyl alcohol, polysorbate 60, tocopheryl, acetate, behenyltrimethyl methosulfate, cetrimonium chloride, athemis nobilis (chamomile) extract, achillea millefolium (yarrow) extract, citrus medica limonium extract, artemisia abrotanum (southernwood), citric acid, propylene glycol, sodium hydroxide, disodium EDTA, annatto, methylisothiazolinone, methychlorothiazolinone, benzyl salicylate, limonene
is a Solution for:
Dry or Brittle Hair