I am trying to minimize shampoo and conditioner abuse and I am finding that a once-a-week hair mask is a good way to nourish and add shine. I haven't done enough research or been given any tips to compile Truth In Aging's Five Best, but here are a couple that I like a lot.
Louise Galvin Sacred Locks Treatment Masque.
Although this isn't easy to find in the US, I make no apologies because Louise Galvin makes some of the best hair products I've found yet. I don't like the Sacred Locks appellation or the packaging, but all of this is merely superficial. There are no silicones, parabens, petrochemicals, polymers or sulfates. Natural gloss is achieved with ximenia oil and this mask is light enough to be used as a daily conditioner if you have a head of straw that needs all the help it can get.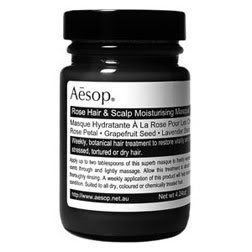 Aesop Rose Hair & Scalp Moisturizing Masque.
You don't need to wait for a bad hair day to try this, any kind of bad, bluesy day will do. There is something therapeutic about using this that goes beyond pampering. Although, not billed as aromatherapeutic, Aesop products have smells that can only be described as uplifting. My husband used my Aesop Sage Scalp Cleansing Shampoo yesterday and kept raving about the smell. The masque has rose, lavender and grapefruit. It is a good anti-frizzer for those who want to avoid silicone overload.