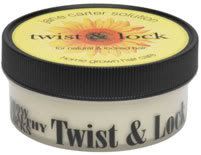 For styling hair - particularly if it is like mine and is willful and malevolent - it is hard avoid gels (or anything else for that matter) with harsh alcohols, wax or petrolatum and find something that actually gives you control. Jane Carter Solution Twist & Lock was an impulse buy at Whole Foods and it turned out to be a great Truth In Aging product meeting the joint criteria of: 1) it must work; 2) it should do no evil.
Twist & Lock has shea, mango, kokum and illippe butters, vitamins, oils of orange and grapefruit, geranium, bergamot to name but a few of the ingredients that smell good enough to eat. Best of all, two nice preservatives. Now if Jane Carter can find benign substitutes for parabens, why can't everyone else.
Oh yes, it works too. It provides scrunch and hold, especially for wavy hair. Just don't expect it to hold all day - I find it lasts about four hours.