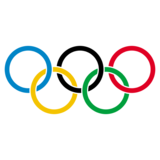 Truth In Aging's

Anti-aging Olympics Nomination: Sun Bunny Salvation
Last week I bought
Elemis Liquid Layer Sunblock SPF 30
($39 for 1.4 oz) and gave it some rigorous road testing during the course of a particularly steamy weekend. Ultimately, I would recommend this mineral sunscreen (the active is titanium dioxide at 7%), although I must admit to one or two reservations.
First, I liked it because it is sweat and water-proof (Elemis says that it retains its SPF a full 40 minutes after activity in water. I didn't get an allergic reaction. It glides on due to coconut and jojoba oils, but doesn't feel at all sticky. Finally, it is called Layer because it has been formulated to sit on the surface of the skin and not be absorbed.
This is an especially good thing because there are a couple of components of Liquid Layer that I would prefer not to have sinking into my epidermis. These include two forms of aluminum
(established as a neurotoxin, although in general it is not easily absorbed and in this case perhaps not at all) and a nasty preservative called phenoxyethanol that can irritate and even affect the central nervous system.
Ingredients in Elemis Liquid Layer Sunblock
Aqua, C12-15 alkyl benzoate, cocos nuicfera (coconut) oil, titanium dioxide, glycerin, simmondsia chinensis (jojoba) seed oil, styrene/acrylates copolymer, glyceryl stearate, PEG-100 stearate, phenoxyethanol, tocopheryl acetate (vitamin E), xantham gum, alumina, aluminum stearate, polyhydroxystearic acid, panthenol, tocopherol, caprylyl glycol, sodium benzoate, citric acid, disodium EDTA.