"Time is like a stretched elastic band. You can't let it go or it'll come back and take your eye out." -Patsy, from Absolutely Fabulous.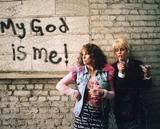 One of my all-time favorite shows on television is the British comedy Absolutely Fabulous, which chronicles the follies of best friends Patsy and Edina—two middle aged, irreverent hedonists who chain smoke, binge drink and pill pop from foible to foible.
I bring them up because if I were to recommend one product to them that would help counter act the loads and loads of damage they have done to their skin it would be
Sophyto's Polyphenol Drops
 ($75, 15x5ml monodoses).
Awhile back, I wrote a
post
on the new British eco-luxe line Sophyto and offered up some free samples on the
condition that you take their free online skin consultation and then write a comment or two for us.  Well, since then I've taken the skin consultation myself (the results of which you can read
here)
and have managed to pony up a 10% discount for Truth in Aging readers.
One of the main selling points for the drops was that they were recommended for smokers, of which, unfortunately, I still am for the time being. Smoking (as well as pollution, sunlight, stress, and excessive alcohol consumption) causes free radical damage in your skin, which — left untreated — attack surrounding healthy cells and cause accelerated aging and even cancer.
For those of us who have lived a lifestyle similar to Patsy and Edina, supplementing the free-radical scavenging antioxidants in our skin is a must, and there is no better formula out there that I have come across that does so better than this. Numerous studies have shown that the topical application of such antioxidants as found in this formula will have potent protective and regenerative effects for the skin.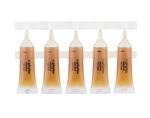 And I'm really believing them.  The dark amber hued, light-weight serum comes in pharmeceutical grade monodoses that can be resealed after the first, or second, or in my case sixth use (I like to stretch things out).  The formula is so light-weight, it seems softer than water and really just dives right into my skin.  From the very first few minutes after application, I notice a definite tightening effect and matte surface, which I am told in my skin consultation comes about from the serums high antioxidant content.
Ishtar Magally, my Sophyto consultant, in her words, explained that, "Polyphenols (also known as Vitamin P) are compounds found in several foods such as grapes, apples, berries, etc. So far, they are the most antioxidant rich compounds known today. They tighten and brighten the skin, they provide a toning effect to the capillaries helping reduce their appearance, they are anti-aging too."
She goes on to say that "[Sophyto's] Polyphenol Drops also have the benefit (besides those mentioned above) of being pH balanced which means this formulation can also help keep bacteria at bay, smooth the skin, diminish fine lines and wrinkles, hydrate and moisten the skin,etc."
According to her, the organic polyphenols selected for this formula, along with aloe vera extract and L-ascorbic acid, have been selected not only for their individual benefits but also for the unique efficacy that this combination brings. For example:
Aloe vera extract is included for its effective penetration, its ability to transport healthy substances through the skin, and its excellent moisturizing capabilities that keep the skin flexible by giving oxygen to cells, which in turn increases the strength and synthesis of skin tissue.
Like aloe vera, ascorbic acid (vitamin C) is an effective skin penetrator that can produce a 20-fold increase in the level of vitamin C.  When combined with other antioxidants, such as vitamins C and E, it has a synergistic effect that maximizes your skins photoprotection capabilities, all the while scavenging for free radicals and stimulating collagen production. The one catch I have with this is that L-ascorbic acid must be formulated at pH levels less than 3.5 to enter the skin, and the overall pH balance of the polyphenol drops is at 4.8. I'm awaiting a response from Sophyto, and will let you know what they have to say. I'm also interested in finding out what the concentrations are, for this and the other polyphenols in the solution. Common wisdoms dictates a 20% concentration for ascorbic acid for optimal absorption, so I guess we'll see how Sophyto compares.
Now on to the polyphenols…
Polyphenols, as mentioned earlier, are a type of antioxidant with a polyphenolic structure that is sourced from the fruits and vegetables we eat. More and more studies have been coming out demonstrating that they can be applied topically to supplement the skin's antioxidant reserve and provide protection from ultraviolet radiation, which in turn inhibits the occurrence and/or growth of tumors, slows down the formation of wrinkles, and promotes general wound healing.
What's more, additional studies show that antioxidant protection increases along with the diversity and quantity of antioxidants. Here, the organic polyphenol compounds selected are derived from olive leaf extract, apples, green and white tea's and fermented red grapes, and work together synergistically with aloe and abscorbic acid to combat oxidative stress and increase the skin's natural photoprotection capabilities.
Another important selling point is that the formula is free of parabens or propylene glycol, which are toxins that deactivate polypehnols. What I don't know, however, are the concentrations.  For green tea extracts, those in the know recommend products that contain extract polyphenols in the 90% range. While I'm still waiting on the numbers, I can say that the nice amber hue of the solution suggests beefy concentration levels (for green tea polyphenol extract, the darker the hue, the higher the concentration).
Polyphenols isolated from the olive leaf include oleuropin, hydroxytyrosol and tyrosol—highly active antioxidants that Southern Cross University in Australia found to be more powerful than green tea, and vitamins C and E. While oleuropin is the main phenolic compound in the olive leaf (and is an important anti-microbial antioxidant in itself), it is the heavy-lifting hydroxytyrosol that is the real power horse, with an oxygen radical absorbance capacity of 40,000 umolTE/g, ten times higher than green tea. Also rich in vitamin E, olive leaf extract makes a nice companion to ascorbic acid, which studies show work together to increase your skin's ability to prevent solar-radiation induced skin cancer.
The inclusion of apple extract represents a growing consensus, or maybe just a widespread re-discovery of the old maxim that indeed an apple a day does keep the doctor away, or in this case the wrinkles at bay. In fact, the use of apple extract in skin care has been growing steadily since 2003, with Juice Beauty being the first industry leader to come to mind. You can find pyrus malus in anti-aging, anti-acne and brightening products not only because of its cell protecting and anti-free radical antioxidant effects, but also because of its toning and exfoliating effects thanks to its malic and alpha hydroxy acids.
Apples also contain a large concentration of flavonoids, of which quercetin is the most active. As Marta wrote in an older post, quercetin, of all the flavenoids, has the highest cellular antioxidant activity value. In addition, apple extract contains isoflavoinds (anti-inflammatory), phytosterols (renowned for the regenerative properties) and vitamin E derivatives (protective.
Green tea is the star polyphenol antioxidant in this compound thanks in part to the numerous studies and published research on its skin care effects. Research has shown that green tea polyphenols applied topically exert powerful anti-inflammatory and photoprotective effects that inhibit UV radiation-induced tumors and ease oxidative stress.  Other reports detail beneficial effects for the treatment of psoriasis, rosascea, wrinkles and wounds. The major polyphenolic compound in green tea responsible for this is EGCG, or Epigallocatechin gallate, and is especially potent with 25 to 100 times the antioxidant power of vitamins A and C.
Research undertaken by the University of Georgia and the U.S. Department of Veteran Affairs independently demonstrated that EGCG will protect the skin's immune system, delay cellular aging and stabilize sensitive, irritated skin. "But more importantly" says VA scientist Santosh Katiyar, "they enhance the production of interleukin-12, which has a role in DNA repair. If green tea polyphenols can repair DNA, then they can prevent skin cancer," he writes. What's more, as UGA found out, "when exposed to EGCG, the old cells found in the upper layers of the epidermis appear to start dividing again. They make DNA and produce more energy." Basically, what he is saying is that green tea extract will reactivate your tired old skin cells.
Now there's been much hoopla in the media about the benefits of resveratrol, which comes from the fermented grapes found in red wine, but there are also other important phytochemicals—flavinoids and polyphenols—that make Sophyto's inclusion of vitis vinifera fruit extract an excellent choise for this formula.  Grape seed extract, along with reveratrol (which you can read more about here), contains an abundance of anthocyanidins, epicatectins, gallic acids and other polyphenolic biofavins. Studies show that grape's polyphenol antioxidating power is more than 10 times that of vitamin C and E, and is also much easier for the body to absorb. Some research also suggests that grape seed extract facilitates would healing with less scarring when applied topically by building up the epidermal and connective tissue.  The same study also showed the tissue grew back denser and stronger in structure.
Ingredients: *aloe barbadensis (aloe vera) leaf juice, *pyrus malus (apple) fruit extract, *grain alcohol, *camelia sinensis (green tea) leaf extract, *camelia sinensis (white tea) leaf extract, *vitis vinifera (red grape) fruit extract, aqua (water), vegetable glycerin, *olea europaea (olive) leaf extract, glyceryl caprylate, levulinic acid, xanthum gum, mannan, sodium hydroxide, ascorbic acid (vitamin C).  *organically grown and processed in accordance with Soil
*Association Organic Standards UK.  96% of the agricultural ingredients are produced organically.