Did you know that there is something in economics called the LipStick Theory? It was first coined by the estimable Estee Lauder, who noticed (happily for her business) that in a recession lipstick sales went up. Because this is a little counter-intuitive, from time to time, studies are done to see if the Lipstick Theory holds true. Apparently it does. I suspect there is a little nuance to this. In a recession, people start to look for cheaper brands and products; they spend less per item but their overall spending may stay the same or even increase under the delusion that they are being frugal by replacing the $80 cleanser with a $30 one.

On the subject of cleansers, I still find Tracie Martyn's Amla hard to beat. But at $65 for 1.7oz, even die hard fans are writing in to Truth In Aging to ask for lower priced alternatives (to be fair, it does last about six months in my experience). I have become a fan of Stem Organics Gentle Cleanser ($36 for 4.2oz). Incidentally, I was sent two by mistake and the nice folks at Stem have allowed me to keep them (and they are still going to send me the exfoliator I originally ordered. So, I will ship it to the first person to send their address to me at marta@truthinaging.com - on condition that the lucky recipient tells us in detail what they think (by emailing me and I'll write up a review), or better still writes a guest blog.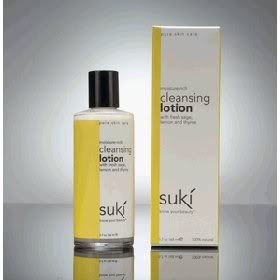 In the meantime, for those of you casting about for a cost-conscious cleanser I can also recommend Suki Moisture Rich Cleansing Lotion. This doesn't have the antioxidant boost that you get with Stem (it has kakadu, kelp and vitamin E), but it does have some nice ingredients with a hint of Cleopatra's reputed bathing routine to it. Sage and thyme are infused in organic goat milk. Plus there are sunflower and grape seeds, cocoa butter and vitamin C. Not one single nasty preservative in sight.

While you are about it, you could also check out Suki's Exfoliating Lemongrass Cleanser. In this pure olive oil has been saponified, a process that makes a fat or oil into soap. (Saponification also refers to something that happens to fat on corpses, but there really isn't any need to get into that here). Rice powder and sugar do the exfoliating part. There is also chamomile, which is most definitely an anti-inflammatory but I am less certain that it can, as some herbalists claim, rejuvenate skin cells.