A couple of weeks ago, I wrote about 3Lab WW Eye Cream because it was supposed to contain human growth hormone. In response, Jem wrote in to say she was trying out the 3Lab WW Cream and helpfully copied out all the ingredients. This morning, she reported that she's had a bad reaction to it and has stopped using it. So I went through the ingredients of 3Lab WW Cream to see if I could locate the culprit.
I think I have found the source of her breakout and, in the process of hunting for it, I came to the conclusion that for $400 (actually, for $75) this cream is one big scam.
Before going in to all of that, what might be responsible for Jem's reaction? Now, I will admit that most of the ingredients in 3Lab WW are absolutely safe and non-toxic. Except, that is, for one: dimethyl isosorbide. This is a solvent and it irritates if absorbed by skin or comes in contact with eyes. It has recently been found that dimethyl isosorbide does indeed effectively penetrate the skin. In fact, that's kind of the point. Because it has the ability to dissolve loose fat in the skin, it can carry across the skin membrane. This makes dimethyl isosorbide really good at reaching the source of a skin disorder - like a fungus - and wiping it out. On healthy skin, its probably just going to irritate it, especially if you are a little sensitive.
So that being said, why is 3Lab WW Cream barely worth the jar it's in?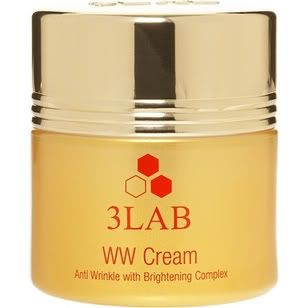 I actually feel a bout of annoyed indignation coming on. There are no less than eight  (one quarter of all the ingredients) different thickeners and emulsifiers, one of which (along with dimethicone, a silicone) also imparts a silky, supple feeling. Note that 'feeling' is the operative word. The effect is entirely superficial.
There is, in 3Lab WW Cream, a not particularly exciting anti-oxidant, oligopeptide-4. Perfectly fine, but not in the same league as the matrixyl peptides. Hyaluronate is the only other ingredient that could be considered remotely active in repairing aged skin (hyaluronate is commonly used as an injected filler). There is shea butter and squalane - both nice non-chemical moisturizers - and a couple of plant extracts. Then there are two lightening, brightening ingredients.
And that, my friends, is about it.
Full list of ingredients:
Water, glycerin, pentaerythrityl tetraoctanoate, butryospermum parkii, cetearyl alcohol, dimethyl isosorbide, c12-20 acid peg-8 ester, c10-18 triglycerides, isodecyl salicylate, butylene glycol, isononyl isononanoate, ethylhexyl isononanoate, dimethicone, coco glucoside, sodium, hyaluronate, hydroxyethyl acrylate/sodium acryloyldimethyl taurate copolymer, squalane, polysorbate 60, oligopeptide-4, oligopeptide-5, proppyl gallate, acrylates/c10-30 alkylacrylate crosspolymer, polymethylmethacrylate, tocopheryl acetate, diacetyl boldine, camellia sinesis (green tea) leaf extract, ginko bilboba leaf extract, glycyrhiza glabra (licorice) root extract, phyllanthus emblica fruit extract, arbutin, sodium levulinate, sodium anisate, disodium edta, fragrance