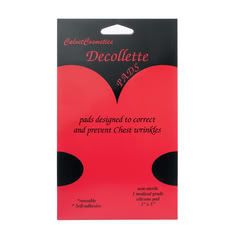 I'm 27-years-old and I'm noticing the first signs of aging not on my face but on my chest area. And it's very frustrating to see my best asset depreciate in value. I've got two wrinkles extending up from my cleavage and a dozen or so sun spots.
If only I had listened to Miss Bramblet! "No stomach or side sleeping," she would say during kindergarten nap time.  There are many reasons why it is better to sleep on your back, especially so once you're out of grade school.  Sleeping on your side or stomach causes wrinkles, on your face and - as I'm now noticing - on your cleavage.
While I can't go back in time and tell my sixteen-year-old self to lather on sunscreen at the beach, I thought that there could be at least something I could do to correct and prevent the chest wrinkles that have been developing in part because of my stomach and side sleeping.
That's why I was so excited to try out
Calvet Cosmetics Décolletté Pad
s, which are designed to correct and prevent wrinkles brought about from sleeping on your side, aging and sun damage.  Testimonials at Blissworld.com seemed encouraging, and so I decided to try it out.
It is a silicone adhesive pad that you stick in your cleavage before bedtime.  Working in much the same way as Frownies pads do,
which one reader highly recommends,
these décolletté pads keep the skin taunt and smooth no matter what position you're in.  In theory, it's a great idea.  In practice, however, not so much...
While comfortable, I found the next morning that my décolletté pad had slipped down during the night to my stomach.  The next night, I found it up near my chest.  The third night, it was in my sheets.  And by the fourth night, there was just too much lint for it to be of much use.
Perhaps I should just give up trying to use it while I sleep.  The instructions do say that it can be used any time of the day to correct wrinkles, but if I can't use it effectively while I sleep to prevent those wrinkles from forming, then what use is it?
Ingredients:
Made of 100% medical grade silicone. No allergy causing latex, urethanes, or adhesives.
Related posts:
Reader review: Frownies, yes they work.