Royal Nectar Bee Venom Eye Cream Review
Pros
Works well with other skin care products, application is pleasant, ingredients free of sulfates and parabens
Cons
Does not help to eliminate puffiness or improve signs of aging in the eye area
Our Take
A soothing eye cream that feels nice on the skin, but does not reduce wrinkles, fine lines or inflammation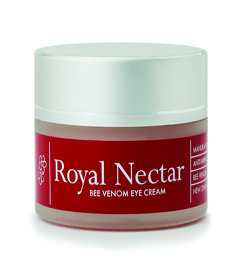 Our Rating:
I have been using Royal Nectar Bee Venom Eye Cream ($35 in the shop) twice daily for the last four weeks, incorporating the product into my morning and evening skin care routines without changing anything else except ceasing to use other eye treatments.
On the Nelson Honey website, the product is described as a soothing age-defying eye treatment formulated with a unique blend of New Zealand Manuka Honey and bee venom. After experiencing a fresh, soothing feeling, the unique formulation gently stimulates the facial muscles around your eyes, helping to gently firm and smooth delicate eye skin.
Royal Nectar Bee Venom Eye Cream is the most recent product from the New Zealand based company Nelson Honey & Marketing's line, Royal Nectar Skincare. The product arrives packaged in a small, sophisticated yet simple pot with a screw-off lid and a tiny spatula to dip out cream. The cream is a bright white color with a very light, fresh fragrance. Those sensitive to fragrances should have no issues here. It is not as thick as it appears in the pot once applied and it absorbs quickly.
The product played well with various oils, serums, creams and makeups with no piling. The ingredients are free of sulfates and parabens and suitable for all skin types. In addition to the honey and bee venom, there are also soothing blends of waxes and pure essential oils. The application was pleasant with no irritation or burning of the eyes whatsoever. I did notice a slight tightening sensation upon some applications, but not always. Hydration from the cream was not adequate for my mature (50-year-old) under eye area, with crepeyness on the inner corners. Thankfully, I don't have issues with dark circles or under eye bags and puffiness but I do occasionally experience upper eye lid puffiness due to lack of sleep. This product does not help to eliminate puffiness.
Although my testing trial with this product was not unpleasant, I simply saw no improvement to the eye area and actually think the crepeyness has increased since eliminating my usual products. I feel this product is better suited for younger skin as a preventative measure to reduce the signs of aging.
Ingredients in Royal Nectar Eye Cream with Bee Venom
Aqua (Distilled Water), Prunus AMygdalus Dulcis (Sweet Almond) Oil, Hydrolyzed Wheat Protein, Glycerin, Coco-Caprylate, Butyrospermum Prkii (Shea) Butter, Mel (Manuka Honey) and Bee Venom, Persea Gratissima (Avocado) Oil, Prunus Armeniaca (Apricot) Kernel Oil, Glyceryl Stearate SE, Cetearyl Alcohol, Parfum, Anthemis Nobilis (Chamomile) Flower Oil, Tocopherol Acetate, Camellia Sinensis (Green Tea) Leaf Extract, Dipalmitoyl Hydroxyproline, Sodium Stearoyl Glutamate, Xanthan Gum, Acacia Senegal Gum, Hydrolyzed Rhizobian Gum, Dehydroacetic Acid, Benzyl Alcohol
Is Royal Nectar Eye Cream with Bee Venom Right for Me?
Absorbs quickly and has a light, fresh fragrance
Does not provide adequate hydration
Does not reduce the appearance of crepeyness, wrinkles or fine lines
Does not help to eliminate puffiness
Royal Nectar Eye Cream with Bee Venom is a Solution for:
Crow's Feet, Dark Circles, Fine Lines, Puffy Eyes, Uneven Skin, Wrinkles