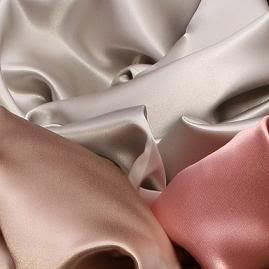 There may be more to the notion of beauty sleep than merely getting in a good eight hours. I had a delightful and very interesting conversation the other day with the founder of Neero & Ana, a company that created Satin Hydration Therapy. Now I must admit that a satin pillowcase wouldn't have been my first choice of weapon in the fight against dry hair and aging skin. But once I started to think about it, it struck me that there may well be something to it.
Satin Hydration Therapy has the merit of simplicity. The idea is that a cotton pillow case absorbs your moisture as you sleep leaving you with dry skin and brittle hair. So toss the cotton and sleep against satin, which is non absorbent and doesn't leave crease marks on your skin. Chemically treated hair will be especially appreciative. That's it- no expense account at Sephora and no rituals.
Thanks to my chat with Doreen Motton, I have become something of an aficionado of satin. First of all, satin is not a fabric but a weave. Sateen is actually polished cotton. Neero & Ana use acetate bridal satin that is machine washable. Satin's quality is measured by 'float' (unlike cotton's threads). The highest float count possible is eight and Satin Hydration Therapy's pillow cases measure in at six.
I must admit that I am more than tempted to give it a go. I shall, of course, report back.
Useful links