I've been experimenting with a variety of serums to find something that works with Ultra Renew. As the Ultra Renew has both an LED mode and ultrasonic, I need a serum that can multitask:

1. It has to be water-based to ensure the conductivity of the ultrasonic waves

2. It needs to have slip and not be too fast-drying, so that it is comfortable to glide the ultrasonic plate over the skin

3. It needs to have antioxidants for the LED mode (as it is pro-oxidant in the short-term)

The good thing (well one of the many good things, the most important being its lifting action that is boon for sagging skin) about ultrasonic is that it helps products to penetrate, so it is really worth getting something potent.

I have found so far (this is a work in progress) that there are three that work best and I also think they'll suit every age and wallet:

Snowberry Bright Defence Day Cream No 2 ($63) This has great slip and retains its moisturizing feel on the skin to keep things comfortable in ultrasonic mode. This is due to some unique ingredients, such as "silver ear," a mushroom whose water-retaining capacity is greater than hyaluronic aci. Antioxidants include rosehip, grapeseed, passion flower and macadamia and the New Zealand harakeke. Then there is kombuchka, produced from the fermentation of sweet black tea. OxyResvenox is a skin lightener stronger than kojic acid (if you have dark spots, trying using this with the green LED light).

Mad Hippie Vitamin C Serum ($30). Almost gel like, this gives good slip. It dries a bit quicker than the Snowberry so you may need to apply more before your Ultra Renew session ends, but it has vitamin C and the price point is keener. It also vitamin E and ferulic acid, as well as hyaluronic acid.

Your Best Face Control ($160 in the TIA shop). If you feel that elasticity - or loss thereof - is your biggest issue, then the combo of ultrasonic, LED and the newly formulated (very much with restoring elasticity in mind) is a very good combination and it seems to be helping my menopausal skin no end. This yellow cream applied a little more generously than I usually would gives enough slip for a full session and the cutting edge radical scavengers are ideal for LED.

We have put together these bundles with some great savings: click here

Ingredients in Snowberry: Aqua (Demineralised), Dicaprylyl carbonate, Hydrogentated Lecithin & C12 - 16 Alcohols & Palmitic acid, Prunus Armeniaca annuus (Apricot) Kernel oil , Saccharomyces/Xylinum Black Tea Ferment & Glycerin & Hydroxyethylcellulose, Sodium palmitoylproline & Nymphaea alba flower extract, Passiflora Incarnata oil, Glycerine (Coconut), Hydrogenated Lecithin, Isoamyl Laurate, Sodium Lactate, Glyceryl Caprylate, Sclerotium gum, Rosa Canina (Rosehip) oil, Phormium tenax (Harakeke) seed oil, Octadecenedioic

Ingredient List in Mad Hippie: Water Deionized, Vitamin C (Sodium Ascorbyl Phosphate), Alkyl Benzoate, Vegetable Glycerin, Water, Glycerin, Sodium Levulinate, Sodium Anisate, Clary Sage (Salvia Sclarea), Grapefruit (Citrus Grandis), Hyaluronic acid, Amorphophallus Konjac Root Powder, Aloe Barbadensis Leaf, Vitamin E (Tocotrienol), Ferulic acid, Chamomile Flower Extract (Recutita Matricaria), Sodium Phytate, Xanthum Gum, hydroxyethylcellulose


Editor's Note: The Truth Renew & Truth Renew PLUS prototype devices are no longer available for sale in the Truth In Aging shop.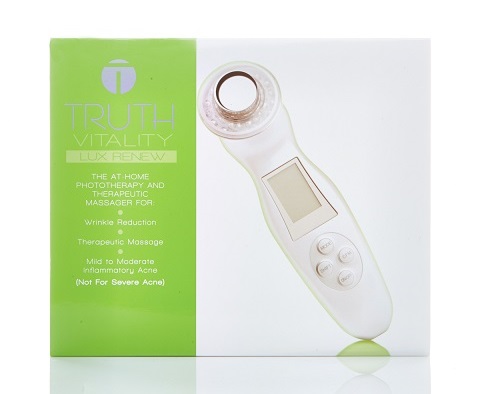 Learn about Truth Vitality Lux Renew, our first ever FDA-cleared device that offers ultrasound, red LED and blue LED therapy to safely and painlessly minimize wrinkles, firm and lift skin, and clear adult acne.