Includes: Bamboo washcloth, Washing Grains, Lavender Toner, and Facial Serum.
Shē Essential Beauty's Facial Rejuvenation Set is very much the occidental experience.  What do I mean by that?  Well, if you're used to sudsing cleansers and slick serums, than you're in for a culture shock.  But of course, all that is new and different is not bad.  And I must say, there is
nothing
that I don't like in Shē's products and a lot that I do.
As I wrote about earlier, in the post
What is it? Pearl Powder
, Shē uses the keynote ingredient
Zhen Zhu
powder, or Chinese Pearl, in all of its products.  Lifted from traditional Chinese medicine and supported by modern anecdotal evidence, pearl powder purportedly has the power to regenerate skin cells and heal wounds. (Although clinical proof is supporting, it is limited at this time.)
So, how has it been working?  Well, I've been using it now for a little over a week and I think that it's fair to say that I have seen anecdotal evidence, but need to hold off on any definite conclusions until I use it for longer.  My skin is looking healthy and clear and moisturized.  And I've also noticed some red spots fading on my chin.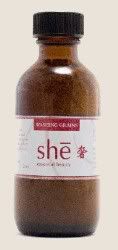 The
Washing Grains ($30, 1 oz)
come loaded with lots of other proven anti-aging ingredients that make it a great product even if the pearl powder doesn't live up to its claims.  Its main antioxidant is
green tea extract
.  Chamomile and lavender soothe.  Rose petals soften. Oatmeal and honey cleanse.
When using the cleansing grains, which are more like a powder, you shake a bit in your hand, add some water and then massage into your face.  As I said earlier, you're not going to get any sudsing action (which for me I like) and you're not going to get that squeaky clean skin feeling afterward.  But it does cleanse, perhaps too much so.  You're not going to want to use the cleansing grains on a daily basis, maybe just a few times a week.  When I was using the grains on a daily basis, and in both the AM and PM, I began noticing a few dry spots on my skin.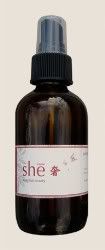 My favorite of the three products is the
Lavender Toner ($20, 2 fl. oz)
, which comes in a handy spray bottle for convenient application.  In addition to green tea extract and pearl powder, Shē includes vitamin E as an extra antioxidant.  Witch Hazel, along with the pearl powder, is the primary astringent and works to effectively close the pores.  Essential oil from lavender gives the toner its great smell, but also functions as a healing, antibacterial agent.
I've been looking to adopt a new toner for some time now and so far this one is the clear leader.  It's easy to apply, all-natural, and with a simple yet robustly effective ingredient list.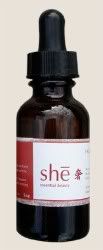 The
Facial Serum ($60, 1 fl. oz)
, like the washing grains, was something that I had to get used to.  To be used in lieu of a moisturizer, Shē's serum is like nothing that you've ever tried before.  A quick glance at the ingredient list and you'll see why: there's eight different essential oils, making for a very heady and heavy experience.  The interesting thing is that I did not notice any skin congestion (despite my very real fears) and that the serum ultimately left my skin feeling lubricated but not slick.
Still, there is the oiliness factor.  While at times it felt luxurious, at others times it felt like more of a nuisance.  It's not the easiest to apply, and you're going to have to wait a few minutes to let it set and absorb into your skin before dashing off outside or applying makeup.
BUT, there's a lot of good in these oils.  Carrot root and jojoba seed oils heal dry, chapped and cracked skin while balancing moisture and improving elasticity.  Geranium, sandalwood and rose are anti-inflammatories, with the latter also acting as an astringent.  Immortelle will help to reduce the appearance of scars. Rosehip is full of essential fatty acids and vitamins and will work to regenerate skin, smooth wrinkles and improve elasticity.  Green tea and vitamin E are the antioxidants. And neroli is an effective anti-bacterial agent.  And all of these smell wonderful, too.
Ingredients:
Washing Grains: Colloidal oatmeal, organic lavandula officinalis (lavender) bud powder, organic rosa damascena (rose) petal powder, organic matricaria recutita (chamomile) flower powder, jasminum officinale (jasmine) flower powder, camellia sinensis leaf (green tea) powder, margarita (pearl powder).
Lavender Toner: Hamamelis virginiana (witch hazel) distillate, lavandula angustifolia (lavender) oil, camellia sinensis (green tea) leaf extract, glycerin, margarita (pearl powder).
Facial Serum: Organic rosa canina fruit (rose hip) oil, organic simmondisia chiensis (jojoba) oil (and Pearl Powder), tocopheryl (vitamin E), lecithin, daucus carota sativa (carrot) root oil, organic lavendula angustifolia (lavender) oil, organic pelargonium graveolens (geranium) oil, citris aurantium (neroli) oil, rosa damascena (rose) absolute, santalum album (sandlewood) oil, helichrysum italicum (immortelle) oil, silk amino acids, daucus carota sativa (carrot) seed oil.