I smoke cigarettes. I know, disgusting...but the new year is coming up, and hopefully I'll make good on the idea that it's just not "cool" to be puffing butts now that I'm no longer a 22-year-old English major on the steps of Tucker Hall at William & Mary discussing existential motifs with my rag-a-tag alt-lit friends.

Perhaps the biggest motivation for me to snuff this habit is living with a roommate (some six years older than me) who has been a chain smoker all of her life. She's a beautiful girl, but I can't help noticing those vertical lines growing up around her lip and the overall dinginess that living within a cloud of smoke leaves upon your skin, hair and teeth. It's true: Smoking cigarettes ages skin faster than anything else apart from sun damage. And there's a term for it: it's called "Smoker's Face."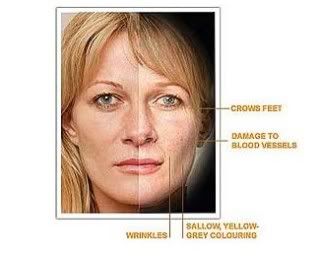 This decade+ New York Times' article by Jane Brody does a good job summing up this phenomenon, and I recommend anyone who's a ciggy fiend such as I to have a look at it. It starts out:
"The doctor could tell the patient had once been an attractive woman. But now, though only in her 50's, her face was etched with wrinkles, her features gaunt-looking with prominent underlying bones and her skin shriveled and gray with purplish blotches. Diagnosis: smoker's face.
FYI, Smoking affects your skin in many different ways, but mostly through:

restricted blood flow through the capillaries (tiny veins near the skins surface) preventing oxygen and nutrients getting to the skin
increased production of an enzyme which breaks down the supply of collagen to the skin's structure. Collagen supply is vital to the skin's elasticity. It decreases with age but smoking cigarettes accelerates this process.
smoking reduces the body's store of vitamin A which provides protection from skin damage
smoking gets in the way of absorption of vitamin C—a vital antioxidant for skin protection and health
continual puckering from drawing on a cigarette and squinting in reaction to the cigarette smoke create deeply wrinkled skin around the eyes and mouth—classic signs of 'smoker's face'
All eventually leading to: dull appearance of the skin—loss of skin glow and vitality; discolored skin (an ashy look on white skins); deeper wrinkles around the mouth and eyes; and, loss of tone and elasticity more than with the normal aging process.
Is this my future? Nooooo!!!!
So I'm going to be quitting on January 20th, that's Inauguration Day is anyone is asking. If Barack can quit the habit then so can I. But until then, I'm going to be using vitamin C serums to help minimize the damage that comes about from releasing thousands upon thousands of toxins and chemicals into my body every time I light up an American Spirit.
In addition to vitamin C and A, there are several other ingredients and products that current and former smokers should incorporate into their beauty routine to best address the signs and symptoms of premature aging brought about by cigarette smoking. For example, smokers should look for products that increase the skin's micro-circulation, improve its oxygen absorption capabilities, stimulate collagen production, exfolliate & brighten ashy skin, and relax lip lines and wrinkles. (Not to mention, teeth whitening products.)
Here's what I'm using:
To help neutralize free radicals, and to specifically target fine lines:
Sophyto's Polyphenol Drops
($75, 15x5ml monodoses) (I use this twice a day, morning and night)
To replace depleted vitamin C reserves:
Sircuit Skin's Sircuit Weapon: 10% vitamin C therapy serum ($85, 1 oz)
Ole Henriksen's Truth Serum
($48, 1 oz.)
(I use either product once a day)
To brighten dull skin:
Suki Intensive Complexion Brightening Cream
($54.95, 30 ml )
To prevent and treat lip lines:
Jurlique's Wrinkle Softening Cream
($76, 1.4 oz)
Intelligent Nutrient's Lip Delivery Nutrition
($17, .07 oz)
To brighten my smile:
SuperSmile Toothpaste
($13, 1.75 oz)