TruActivs TriToxin Review
Pros
Smoothed skin, reduced scarring
Cons
Not worth the price
Our Take
This serum takes time, and money, to work its magic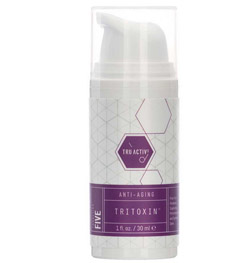 by Bev. B.
When I received the email from Truth in Aging that I had been chosen to test and review TruActivs TriToxin ($220) I was so excited you might have mistaken me for a lottery winner! Not only do I love new products, I love innovative new products and TriToxin's ingredients are nothing if not innovative.
The key active ingredients are apitoxin (bee venom) and XEP-018, an extract of snail mucous and Syn-Ake, aka snake venom. This triple threat of unconventional creature-derived (except Syn-Ake, which is a synthetic form of snake venom) ingredients are all ethically extracted, a process I don't even want to think about. In my attempt to do some objective research outside of the TruActiv website, I didn't find much information as to the efficacy of these ingredients when mixed together, however there is evidence that individually these extracts hold promise against the ravages of time. There are creams out there with snail extract; Syn-Ake is touted as a less painful alternative to Botox, and you can even buy a jar of Apitoxin for $99.00.
TruActivs' entire anti-aging line of products is free of sulfates, triclosan, formaldelhyde, synthetic dyes, pthlates, parabens and petro-chemicals! Moreover, the TruActivs website claims that because they are a privately owned specialized lab, unbeholden to shareholders, they are able to "formulate their products with a greater concentration of active ingredients as well as more powerful delivery methods for better penetration."
I'm in my early sixties and while my face is not yet a wrinkled prune (with TIA I hope it never will be) it's also not exactly as smooth as a baby's butt, either. I suffered from pretty severe acne breakouts through my "wonder years" and though I have remained breakout free for years, I do have a combo skin with a slightly oily T-zone and some redisual scarring, so I'm always looking at products that might have a smoothing effect on these ancient reminders of my painful pubescence.
My typical day/night routine is to wash my face with either avocado oil or Dr. Bronner's Castile/Hemp Rose soap. After washing I tone with witch hazel toner followed by a dab of my own homemade mixture: rose hip, argan, marula and aloe vera oil. I finish with moisturizer and a BB cream. I ceased my homemade oil routine for the four weeks spent testing TriToxin in order to gauge any difference in my skin.
There is no scent that I detected with the TriToxin and I loved the way it went onto my skin. It's neither drying nor oily, but like a Goldilocks cream, the texture is just right. It absorbed quickly and completely with no down time for moving onto the next step.
I am always cognizant of the power of the placebo effect, so I'm cautious about waxing eloquent about the "wonders" of any cream, however, I have to say I feel my scarring and the pulling effect of the wrinkling that occurs around the scars has diminished with the usage of Tritoxin.
I question the wisdom of the use of the word toxin and the price point is $220 for one ounce, which is not exactly chump change. If TriToxin was priced more affordably I'd definitely buy it for another month or so to see if I had further results, but I simply can't justify that amount on a cream unless I wake up the next morning looking like Zooey Deschanel!
Ingredients in TruActivs TriToxin
Deionized Water, Palmitic Acid, Dipeptide Diaminobutyroyl Benzylamide Diacetate, Glycerin, Hydrogenated Lecithin (GMO Free Vegitable-Derived), C12-16 Alcohols, Isononyl Isononanoate, Ceteth-20, PEG-75 Stearate, Glyceryl Stearate, Cetyl Alcohol, Steareth-20, Albizia Julibrissin (Persian Silk Tree) Bark Extract, Darutoside (Holy Herb), Conotoxin CnCIII, Pataua Oil, Caprylic/Capric Triglyceride, Terminalia Ferdinandiana (Kakadu Plum) Fruit Extract, Apitoxin (Bee Venom), Royal Jelly, Diamond Powder, Polymethylsilsesquioxane, Acrylates/C10-30 Alkyl Acrylate Crosspolymer, Allantoin, Aloe Barbadensis (Aloe Vera) Leaf Juice, Propanediol, Bacillus Ferment, Caviar Extract, Citrus Aurantium Dulcis (Orange Stem Cells) Callus Culture Extract, Copper Gluconate, Cucumis Satvius (Cucumber) Fruit Extract, Honey Extract, Isomalt, Lactic Acid, Magnesium Aspartate, Pseudoalteromonas Ferment Extract, Rhododendron Ferrugineum Leaf (Alp Rose) Cell Culture Extract, sH-Ogliopeptide-1 (Epidermal Growth Factor), Sodium Hyaluronate, Squalane (Derived from Sugar Cane), Fragrance (Parfum), Aminomethyl Propanol, Tetrasodium Glutamate Diacetate, Tocopherol (Vitamin E), Xanthan Gum, Zinc Gluconate, Alcohol Denat., Sodium Benzoate, Caprylyl Glycol, Caprylhydroxamic Acid
Is TruActivs TriToxin Right for Me?
Works well with other products
Quality ingredients
Results slow to appear
Not a good value
TruActivs TriToxin is a Solution for:
Scarring, Uneven Skin