I've been working for some time on a simple-to-use, anti-aging system with primary LED and ultrasound functions. I am now proud to announce the launch of the Truth Renew Ultrasonic & LED Anti-Aging System , the little sister to Ultra Renew PLUS ($159), our best-selling at-home device.
Truth Renew Ultrasonic & LED Anti-Aging System by Truth In Aging, with LED lights and ionic modes, has ultrasound for face firming. Plus there are three integrated LED lights (so there's no removal of individual light panels) with red light for smoother skin, green for a clearer complexion and blue for breakouts and pimples.
Long a fan of LED, I am now very impressed with what ultrasonic can do, especially along the jawline, marionette lines and from cheek to temples. With regular use, the firming effects are notable and much better than LED alone. Do note, that unlike Ultra Renew PLUS, the ultrasound and LED cannot be used simultaneously.
What makes Truth Renew a great little device are the some of the features I have incorporated:
Large plate head – Truth Renew has a larger-than-average plate head for more efficient coverage of the face, neck and décolleté.
Sturdy design – Truth Renew is not meant to be hurled around your bathroom, but you'll be pleased by the sturdy design and heft of this little fellow.
Easy to use – Truth Renew has simple controls for selecting the LED light of choice - red, green or blue LED – and the intensity of the ultrasound.
Ergonomic design – the device handle is comfortable to hold
Ultrasound
As the ultrasound waves pass from the treatment head to the skin they cause a vibration of the surrounding tissues, particularly those that contain collagen. You will not actually feel vibrations on the surface of the skin and the device will not feel hot against the skin. The vibration massages the surrounding tissue, which then increases oxygen to the cells and aids in the removal of waste. The skin is should feel instantly energized, rosy and a little firmer. Read more on how ultrasound works.
LED
LED seems to work by targeting water layers on elastin and encourages cellular metabolism, accelerates the repair and replenishment of damaged cells, and aids in the production of collagen. Red light is helpful for fine lines, rosacea, broken veins and firming. Blue light wave lengths pass to skin and produce singlet oxygen, which potentially destroys acne-causing bacteria. Green light targets melanocytes, melanin-producing cells located in the bottom layer of the skin's epidermis. Read more on how LED works.
The LED and the ultrasound are used consecutively (not at the same time) and I have found that about 4 minutes of ultrasonic per side of the face, followed by 3-5 minutes of LED per side is adequate. Play around as time and inclination permits (LED alone, ultrasound alone, both treatments on just one area of the face). Three times a week is optimal. It can be used on hands, neck (LED and ultrasonic are safe for use on the neck providing that you don't have an overactive thyroid) and décolleté as well.
The Truth Renew Ultrasonic & LED Anti-Aging System comes with complementary goggles and illustrated instructions. Note that the voltage is compatible worldwide, but outside the US you will need to purchase a local adapter from your hardware store.
Specifications:
LED Red: 625 nm +/-3nm
LED Blue: 465 nm +/-3nm
LED Green: 525 nm +/-3nm
Ultrasonic frequency: 3 MHz +/-5%
Editor's Note: The Truth Renew & Truth Renew PLUS prototype devices are no longer available for sale in the Truth In Aging shop.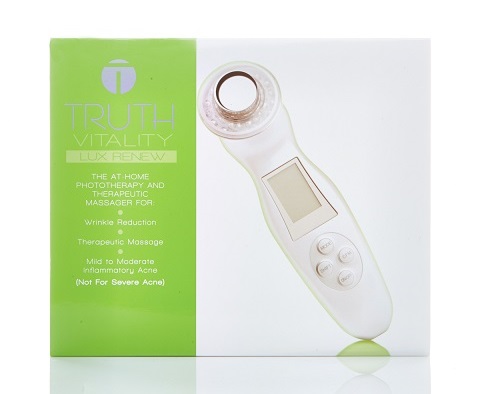 Learn about Truth Vitality Lux Renew, our first ever FDA-cleared device that offers ultrasound, red LED and blue LED therapy to safely and painlessly minimize wrinkles, firm and lift skin, and clear adult acne.