I'm a devoted fan of TIA's own Ultra Renew device, putting it to regular use for about a year and half now, ever since my early product review in June 2012. Of all the discoveries I've made courtesy of TIA over the last few years, none were, categorically, as life-changing (face-changing?) as the use of ultrasonic and LED technologies. Every time I'd get busy or lazy and fall out of the Ultra Renew habit, I noticed that I just looked a little more "tired"; and every time I got myself back on schedule my skin seemed that much firmer, less saggy, less noticeably wrinkled. As I've navigated my late fifties I simply came to think of it as indispensible.
So I was surprised when TIA asked me to test-drive the new Truth Renew, its second-generation offering. But of course I agreed. And bottom line, the baby hasn't been discarded with the bathwater. The Truth Renew offers several appealing enhancements in industrial design but delivers the same basic benefits I've come to depend on.
To back up for a minute: like its predecessor, the Truth Renew can be operated in either ultrasonic mode, which offers two power levels, or LED mode, with three frequencies (blue light for acne, red for skin plumping and anti-wrinkling, and green for skin tone and pigmentation). Simple and intuitive buttons on the handle control its operation (there's no need to change filters or attachments – it's all electronic.) The working end of the device is a circular metal plate that delivers the ultrasound, surrounded by the LED panel. It's drawn across the skin in slow and upward motions. The Truth Renew includes diagrams suggesting how to work the device in both ultrasound and LED modes across the face, but of course it can be used on the neck, décolleté and hands, too, with similarly great results.
I've now used the Truth Renew for nearly four weeks, typically about three times weekly. I generally do about eight minutes of ultrasound over my face and jaw line, followed by eight to ten minutes of LED (usually the red light, though I need to spend a little more time with the green light as well), not ignoring my neck. It seems to run continuously for 15 minutes before turning off automatically. I've been using it with the Ultra Renew Gel Serum that TIA has formulated with YBF's Control, which satisfies the need for a water-based medium in ultrasonic mode, though you may find you need to add a splash of water during the treatment. For LED, you can also experiment with other serums, facial oils, or whatever you like.
If, like me, you've used and loved the old Ultra Renew, you are probably wondering what makes the new Truth Renew different and better. It's largely design and ease of use. The colors and logo have been attractively updated. More significantly, the ultrasonic plate is substantially larger, so it's easier and quicker to treat the areas you're focused on. The device feels sturdier and more substantial, though the handle is still comfortably designed and easy to manipulate.
And most importantly, the results are just as good. If you have an Ultra Renew, you may not need to, or want to, replace it. I think of the Truth Renew as an evolutionary adaptation of a winning species. But if you haven't tried this dual treatment device – especially if you're over 40 – this may be the best $99 you spend on anti-aging this year.
Editor's Note: The Truth Renew & Truth Renew PLUS prototype devices are no longer available for sale in the Truth In Aging shop.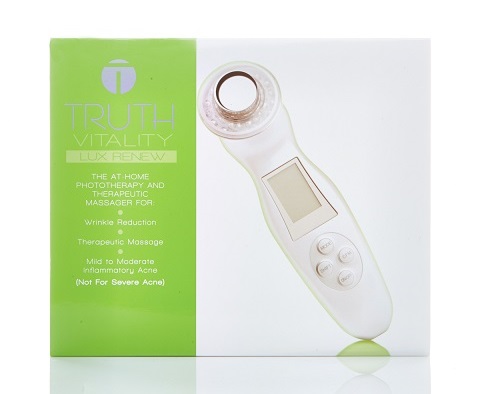 Learn about Truth Vitality Lux Renew, our first ever FDA-cleared device that offers ultrasound, red LED and blue LED therapy to safely and painlessly minimize wrinkles, firm and lift skin, and clear adult acne.