by Kat
I am a 48-year-old mother and have received IPL therapy on my face, neck and chest area under the supervision of a physician. I no longer use the IPL therapy, and I have noticed a change in my skin tone resulting in more wrinkles, sagging, and discoloration. So, when I learned of the Truth Renew Ultrasonic & LED Anti-Aging System, I was very excited to hopefully find an in-home product to provide the same skin rejuvenation. I was especially eager to try it on my face and neck.
I used the product for one month, performing the regimen about three times a week. I used the ultrasound setting on my forehead and face for about six to eight minutes and the green LED light on my neck for 10 to 12 minutes. I used the system after my shower to make sure I had a clean face and neck, and then applied aloe vera as the conducting gel when using the ultrasound and LED settings. The total time to perform the regimen took about 20 to 30 minutes. I did find it was very difficult to fit this regimen into my daily routine. I found myself cutting the time shorter and shorter on various days depending on how busy I was.
After a month of using the system, I did not notice any diminishing of the wrinkles on my forehead, but my skin felt firmer, and I did notice some lightening of the skin discoloration on my neck. However, for the time it takes to perform this regimen, the Truth Renew was not worth it for me. I also feel that it was difficult for me to not compare the Truth Renew to the commercial medical IPL therapy I used to use. Consequently, I expected more of a quicker visible improvement in my skin texture than probably what most people would have expected who don't have the comparison. For those who have the time to fit this into their daily routine, I feel they would get better results than me. As for me, the product would probably just sit on the shelf in my bathroom.
Editor's Note: The Truth Renew & Truth Renew PLUS prototype devices are no longer available for sale in the Truth In Aging shop.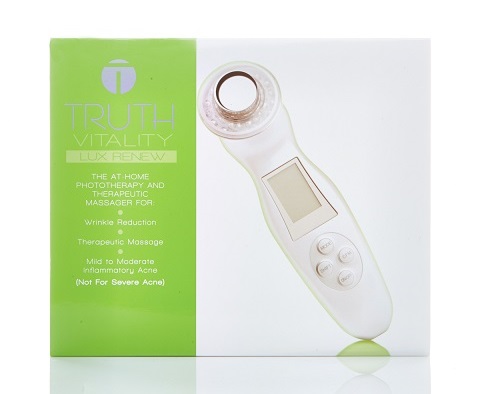 Learn about Truth Vitality Lux Renew, our first ever FDA-cleared device that offers ultrasound, red LED and blue LED therapy to safely and painlessly minimize wrinkles, firm and lift skin, and clear adult acne.