Ultra Renew Gel Serum Review
Pros
Thoroughly hydrates dry skin
Cons
Gets liquidy quickly
Our Take
Pairs superbly with the Ultra Renew Ultrasonic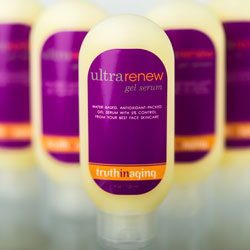 Our Rating:
by Lisa
I've been using the Ultra Renew ultrasonic device intermittently for several months and the one thing I dislike about using it is slathering my face with aloe vera gel — or continuously spritzing with a water bottle — during each session. Both aloe vera and water spritzing worked, but the aloe vera left my skin drier than I liked and any gel that I missed while rinsing ended up as random white flakes on my face and in my hair. Water spritzing was workable as well, but it was hard for me to determine the exact point at which the water dried enough to reduce conductivity, and so I ended up spritzing constantly, which got a little… well, wet. So, I was very glad to hear that TIA was coming out with a gel made especially for use with the ultrasonic device.
There's a lot I really like about the Ultra Renew Gel Serum. First off, it's a substantial size (I'll be able to use this bottle for quite a long time) — in a single session, I'll use about a teaspoon for my face and neck (more on this a little later). Then, there's the gel itself; it's got a lovely texture and scent, much nicer than the aloe vera I was using before as a conducting agent. The gel is a little thicker than aloe vera and stays put wherever you apply it. The thick texture works very well with the Ultra Renew, providing conductivity and glide, but with just enough friction that the metal head of the device doesn't slide around willy-nilly. The best thing about this product, though, is that it has 5% Your Best Face Control.
I'm in my late 40s, and I really appreciate the fact that this gel does double-duty, enabling the device while also providing my skin with some very effective active ingredients. After I use it, I briefly rinse with some warm water, and my skin is left feeling dewy, without the need for additional moisturizer. I've got naturally dry skin, and I live in the desert so I enjoy this particular after-effect of using the gel.
However, there is one aspect of the gel that I find less than stellar, which is that it gets less fluid more quickly than I'd like. This being said, I tend to use the Ultra Renew for longer than the recommended four minutes per side of my face, and I've been consciously trying to conserve the amount of gel that I apply each session. I've compensated for the stickiness by simply dipping my finger in some water and running it over an area if it gets too dry. In the future, though, I think I'll simply apply a thicker layer of gel.
I already liked the Ultra Renew, and I like it even better now that I'm using it in conjunction with this gel serum. My skin looks better (I've been using the gel serum and device about three times a week for a little over a month). It is softer, smoother and more even toned (I'm also using the green LED). Now that I've used the gel, I won't be going back to aloe vera, or continuous spritzes of water. I think the gel really enhances both the performance and results of the Ultra Renew.
Editor's Note: The Truth Renew & Truth Renew PLUS prototype devices are no longer available for sale in the Truth In Aging shop.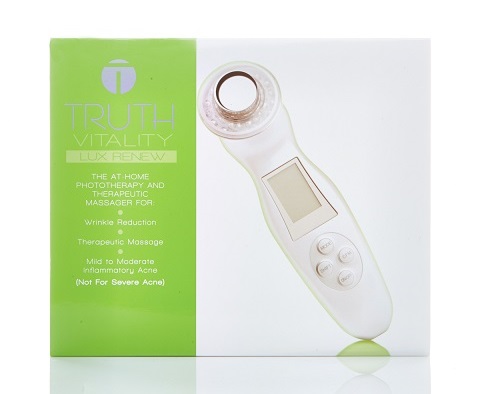 Learn about Truth Vitality Lux Renew, our first ever FDA-cleared device that offers ultrasound, red LED and blue LED therapy to safely and painlessly minimize wrinkles, firm and lift skin, and clear adult acne.
Ingredients in Ultra Renew Gel Serum
Reverse Osmosis Water, Glycerin, Relistase (Glycerin, Acetylarginyltryptophyl Diphenylglycine), Syn-Hycan (Tetradecyl Aminobutyroylvalylaminobutyric Urea Trifluoroacetate, Magneisum Chloride, Glycerin), Syn-Tacks (Glycerin, Palmitoyl Dipeptide-5 Diaminobutyroyl Hydroxythreonine, Palmitoyl Dipeptide-5 Diaminohydroxybutyrate), Matrixyl 3000 (Glycerin, Butylene Glycol, Carbomer, Polysorbate-20, Palmitoyl Oligopeptide, Palmitoyl Tripeptide-3), Nylon-12, Olivem (Cetearyl Olivate, Sorbitan Olivate), Renovage (Triglyceride, Teprenone), Olive Squalane, Ascorbyl Tetraisopalmitate (Vitamin C), Ethoxydiglycol, Dimethylisosorbide, Meadowfoam Seed Oil, Trans Resveratrol, Spin Trap (Phenyl Butyl Nitrone), Vitamin E, C10-C30 Alkyl Acrylate Crosspolymer, Leucidal, Lipochroman-6 (Dimethylmethoxy Chromanol), Sodium Hyaluronate, Coenzyme Q10, Tetrahydrocurcuminoids, Alpha Lipoic Acid (R-Lipoic Acid), Triethanolamine), Triethanolamine (Nf Dea-Free), Leucidal, Meadowfoam Seed Oil, C10-C30 Acrylated Crosspolymer, Ethoxydiglycol, Tetrahydrocurcuminoids (Turmeric Root Extract), Coenzyme Q10
Is Ultra Renew Gel Serum Right for Me?
Ultra Renew Gel Serum creates slip for LED and ultrasonic devices.
Ultra Renew Gel Serum works well with all skin types.
Ultra Renew Gel Serum is a Solution for:
Combination Skin, Dry Skin, Fine Lines, Oily Skin, Sagging Skin, Wrinkles