by Noel
I have been using the Ultra Renew Gel Serum for nearly six weeks now with the fabulous Ultra Renew Ultrasonic LED. Prior to this, I had tried the Ultra Renew with various products, ranging from non-oil-based creams, gels, toners, aloe vera gel and even spritzes of purified water. Unable to find an oil-free product that provided a decent "slip," I ended up sticking with frequently misting my face with water (the spray bottle I use delivers a very fine mist, so the water doesn't run or drip; however, I find squirting my face to be a bit unpleasant, even with tepid water).
Not only was I eager to try the Ultra Renew Gel Serum, but I was extremely hopeful that it would be my solution. When looking at the ingredients, I realized that it has a smidge of Your Best Face Control in addition to other great ingredients. The thick gel has a very faint scent: initially, it's a slight rubbing alcohol odor that's followed by a faint sweet almond scent. It wasn't an off-putting scent and faded quickly.
I applied the gel various ways to figure out what was most effective for me. If done in one application over the face and/or neck and decollete area, it partially dries and the slip is lost before even half of one session. (I applied what I felt was an ample amount without being so thick that it was a waste of the product.) Misting my face before applying the gel didn't keep it from drying out, either. I tried applying it to several parts of my face with my fingers but I found this to be particularly messy. I also found it annoying when I tried applying it directly from the bottle onto the metal head of the device prior to use in each area. In the end, my preference was to apply it to the entire face and mist each section with purified water as I move the device around – the mist immediately restores the initial slip and allows the device to glide easily over the skin without tugging. I then did the same with neck/decollete and backs of hands. The downside is that I had to repeatedly squirt my face with water. How tedious.
After a session, I tried just leaving the product on my face, as it had already mostly dried. Yuk. Too sticky and tight feeling. Still, I wanted to savor the great ingredients, so I tried misting slightly with water, gently massaging into my skin and then allowing to dry. Nope. I still couldn't stand the tacky film on my face. Gently wiping off the residue with a cotton square still left an uncomfortable film. It doesn't just rinse off with splashes of water, either. I had to actually wipe it off with a wet cloth or just wash my face with cleanser again. Fortunately, my face didn't feel dry after cleansing again and it seemed that my serum and moisturizer applied more smoothly and soaked right in.
Although I like how my skin looks and feels after the whole process, I doubt that I would purchase this gel in the future because of the extra steps involved; it's just too much work. Maybe the formula could be tweaked a bit, so it doesn't quickly lose its slip and become so tacky? Then it might also be easy to gently wipe off the excess or massage into skin without having to re-wash my face. (If it only provided that perfect slip, I probably wouldn't mind having to wash my face again!) Once I have used all of the gel, I'll resume applying my current water-based serum and continue to frequently squirt my face while using the device (whine, whine)... and keep hoping for that one-step, slippery, magical product.
Editor's Note: The Truth Renew & Truth Renew PLUS prototype devices are no longer available for sale in the Truth In Aging shop.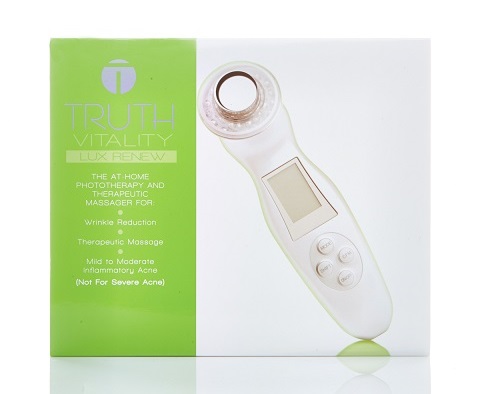 Learn about Truth Vitality Lux Renew, our first ever FDA-cleared device that offers ultrasound, red LED and blue LED therapy to safely and painlessly minimize wrinkles, firm and lift skin, and clear adult acne.