After much experimenting with water-base serums, gels, toners and goodness knows what to use with the Ultra Renew in ultrasonic mode, I have mostly been frustrated. After a few months, I realized the only way I was going to get a decent product, at a reasonable price, giving me just the right amount of "slip" and the bonus of some really good actives was to make it myself. Well, actually, I got Darrell Owens of Your Best Face to do the honors and we are now proud to announce Ultra Renew Gel Serum with 5% Your Best Face Control.
Ultra Renew Gel Serum fits my criteria perfectly. It has two excellent antioxidants, turmeric and coQ10, a 5% concentration of Your Best Face Control and the consistency of the water-based gel is just right. The Gel Serum is thick enough to ensure the Ultra Renew device is super comfortable to use, but it is not too gloopy. A key concern was to ensure that it wouldn't be comedogenic. I have been testing it for weeks and it hasn't blocked my pores at all.
Your Best Face Control is a serum that is packed full of antioxidants and the latest ingredients for lifting sagging skin and increasing elasticity. And as the Ultra Renew device is helpful against sagging and marionette lines, a dollop of Control is very complimentary. First up amongst Control's ingredients is Relistase, a tripeptide that inhibits elastase activity and boosts collagen 1 synthesis. It has also been designed to treat sagginess and restore firmness to the skin. This along with Syn-Hycan, also in Control, was featured as one of the Five Best for firming sagging skin.
Control also features the power peptide Matrixyl 3000 and YBF's signature free radical scavenger, spin trap. In addition there's Syn-Tacks, resveratrol, lipochroman-6 and much more.
Ultra Renew Gel Serum has a couple of nice little extras as well. We've added in some antioxidant turmeric and coenzyme Q10. Meadowfoam oil helps to give it the required slip. Like Truth In Aging's other two products, Hair and Brow Vitality, it uses a safe preservative based on radish root.
With turmeric, coenzyme Q10, and 5% Control, there is more than enough to bring some real benefits, especially as the ultrasonic mode on Ultra Renew helps ingredients penetrate the skin.
Ultra Renew Gel Serum should be smeared in a thick layer on the surface of the skin – a bit like applying a mask. I find that after my Ultra Renew session, it can be rinsed off with warm water or with a cotton ball soaked in toner. Once my face is clean, I apply my night cream of choice, which is – guess what – Your Best Face Control.
Editor's Note: The Truth Renew & Truth Renew PLUS prototype devices are no longer available for sale in the Truth In Aging shop.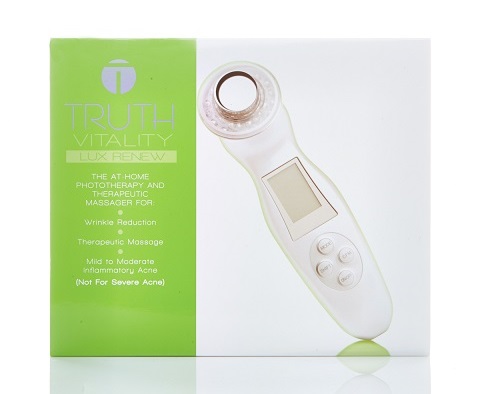 Learn about Truth Vitality Lux Renew, our first ever FDA-cleared device that offers ultrasound, red LED and blue LED therapy to safely and painlessly minimize wrinkles, firm and lift skin, and clear adult acne.