I'm writing this based on over six weeks' experience with Truth in Aging's new Ultra Renew combo ultrasonic and LED treatment device ($89) – though probably I could have written it sooner! I was delighted to test-drive the Ultra Renew, first a prototype product, then the current branded device sold in the shop, so I waited until I'd used them both for a while. I am delighted with the experience – have learned about the value of ultrasonic – and think this is a very good way to put $89 to work.

I was already a convert to LED, having learned about it here at TIA and bought the well-priced Sirius Aurora as soon as it came out last year. LED was about as close to life-changing as anything can be in your sixth decade: the red light really improved my skin's appearance (resilience, wrinkles, firmness) and the green light had a dramatic effect on pigmentation. But I'd never had ultrasonic treatments and was perhaps a bit more skeptical on that front – though game to try.

First of all, out of the box: the TIA Ultra Renew is a well-designed, sturdy-feeling implement, well designed to comfortably fit the hand and face, with a nice, solid feel. (Though I had good results with the Aurora, it has a rather insubstantial feel and a tendency to become a bit temperamental – the connections between the removable LED panels and the electronics were flaky.) The controls for the Ultra Renew are immediately intuitive, and in LED mode, the light frequency (color) is controlled by simply clicking the controls, rather than changing out different-colored plates – far easier and more reliable. Best of all, TIA's instructions were to use ultrasonic mode (in sweeping, upward motions) for up to eight minutes, and to use LED, moving slowly across each area, for 10 to 15 minutes. I had found the lengthy sessions with the Aurora (which also advises using LED in both "pulse" and steady-light modes) rather tiresome after a while (and so I hadn't remained consistent with it, I'm afraid).

Besides better accommodating my limited attention span, the Ultra Renew really worked. Ultrasonic was a big surprise: I would agree that it provides a subtle but real firming effect, and that my skin seems somewhat "lifted" – jawline, cheek, brows, even forehead. I used it on my neck as well. The LED mode worked as I'd expected, and I soon got back into a routine, alternating treatments between green and red. I used LED on my neck, chest, and hands, too. (It's great for hands, in my experience, and I definitely have those freckles better under control.) I sat down with the device about four times a week, starting each session with ultrasonic and then switching to LED mode. I did notice that for the first couple of weeks, my skin was a bit pink – sort of flushed – after ultrasonic (of course, I used the "high" setting) but that subsided almost immediately and didn't seem to happen at all after a while, perhaps as my skin got used to it.

One thing I struggled with – and that I suspect everyone will have to work out for herself – is what topical products/serums/etc. to use with the Ultra Renew. As Marta points out, the ultrasonic head, dragged across and up the face, really needs some kind of help to move smoothly – something with good "slip," but also, TIA says, that's water-based to provide conductivity. And LED, I knew from experience, is enhanced by the use of serums that reinforce its impact. I started my sessions using an aloe vera gel for the ultrasonic, rinsing it off, and then applying an oil or serum before switching to LED mode. But the aloe gel was kind of sticky and unpleasant, and the process seemed more trouble than it was worth. I used YBF's divine Private Reserve Oil, which of course provided wonderful lubrication, but I worried that (as an oil) it wasn't suitable for use with ultrasonic. I ended up preferring to use either YBF Control throughout my sessions, or a combination of YBF Hydrate B Concentrate, (because it has a gel-like quality) with YBF Antioxidants Concentrate. I'm still not sure what's optimal, but these seem to work for me, and might make sense for others my age.

I'll continue to experiment with serums, but will count on Ultra Renew as part of my routine. I am pretty cautious about buying pricey home devices: my inventory consists of a Clarisonic I bought about four years ago, and still use every day, and the Aurora. But as an easier-to-use LED device coupled with the magic of ultrasonic, I would definitely spend $89 on the Ultra Renew. Thanks, TIA!

Editor's Note: The Truth Renew & Truth Renew PLUS prototype devices are no longer available for sale in the Truth In Aging shop.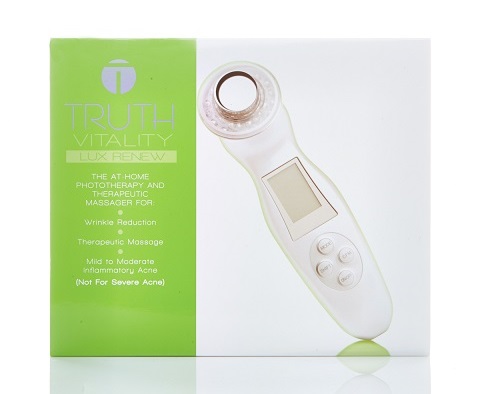 Learn about Truth Vitality Lux Renew, our first ever FDA-cleared device that offers ultrasound, red LED and blue LED therapy to safely and painlessly minimize wrinkles, firm and lift skin, and clear adult acne.